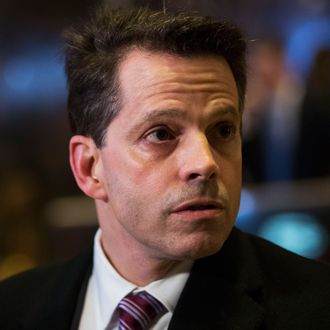 Mooch out.
Photo: Drew Angerer/Getty Images
A gig as the White House's intermediary between the business world and the Trump administration has fallen through for hedge funder Anthony Scaramucci, the New York Times says. Despite previous reports that the job was his, Scaramucci lost the post because of concerns over the recent sale of SkyBridge Capital, his hedge fund of hedge funds.
At least that's the official line. Last month, Scaramucci sold a majority stake of SkyBridge to HNA Group, a Chinese company with deep ties to the Communist Party, that some think is trying to gain influence in the Trump administration. The White House Counsel's Office was reportedly going to need three months to clear Scaramucci of potential ethical conflicts, and with his role unfilled, the story goes, Trump and company had to move on.
If a newfound emphasis on ethical propriety seems surprising in the Trump White House, that could be because it may be a convenient cover story. According to multiple reports, Scaramucci was simply unwanted. Fox Business reported this week that he is a favorite of Steve Bannon's but Trump's chief of staff Reince Priebus was pushing for "continued vetting of his business ties." Scaramucci was also not getting along with Trump adviser and The Apprentice alum Omarosa Manigault.
Priebus didn't just want more vetting for Scaramucci, he wanted the man known as the Mooch gone, Politico reports. It didn't have much to do with ethics, one person told Politico. "Reince is trying to cut someone who has a direct line to Trump," the source said.
Further support for that theory comes from Richard W. Painter, George W. Bush's ethics lawyer, who told the Times, "This does not seem to me to be a clear disqualifying factor." And as Painter has made clear, he's not one to take ethical concerns lightly. Last week, he sued President Trump over his own conflicts of interest.