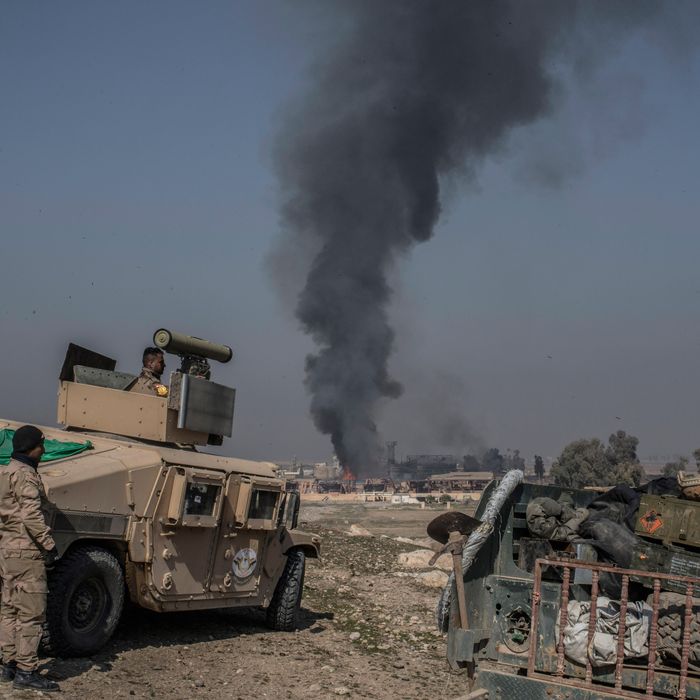 Iraqi forces at Mosul International Airport.
Photo: Martyn Aim/Getty Images
ISIS suffered dual blows on Thursday, losing strategic ground in both Iraq and Syria. Iraqi forces reclaimed almost all of Mosul's airport from the control of the terror group, a key victory in the government's months-long offensive to retake Iraq's second-largest city. And over in Syria, Turkish-backed rebels seized control of the city of al-Bab, expelling ISIS from one of its last big strongholds there after a bloody, protracted battle that began just before fall.
The gains in Mosul come after Iraqi troops began a renewed push into the western part of the city, which remains under ISIS control. (Iraqi troops liberated eastern Mosul in January.) A week ahead of the operation, the United States led air strikes against 33 targets, including some believed to be ISIS command centers, reports the New York Times. Iraqi police forces led the assault Thursday; ISIS fought back with IEDs, car bombs, and mines buried underground, eventually losing ground as Iraqi forces pushed onto the runway. The Joint Operations Command said "many" ISIS fighters had been killed.
ISIS obliterated much of airport's infrastructure, rendering the airport and its runways mostly useless. But bringing the area back under Iraqi control enhances the military's strategic position for the more critical — and brutal — offensive into western Mosul. Parts of this city are older, more compact, densely populated, and residential; about 750,000 people live there.
Mosul, which ISIS took control of in 2014, is the group's last remaining major stronghold in Iraq. Across the border in Syria, al-Bab — the site of Thursday's other major defeat — was one of ISIS's significant westernmost outposts, close to the Turkish border. According to the Guardian, al-Bab also housed the ISIS operators in charge of planning for foreign terror plots.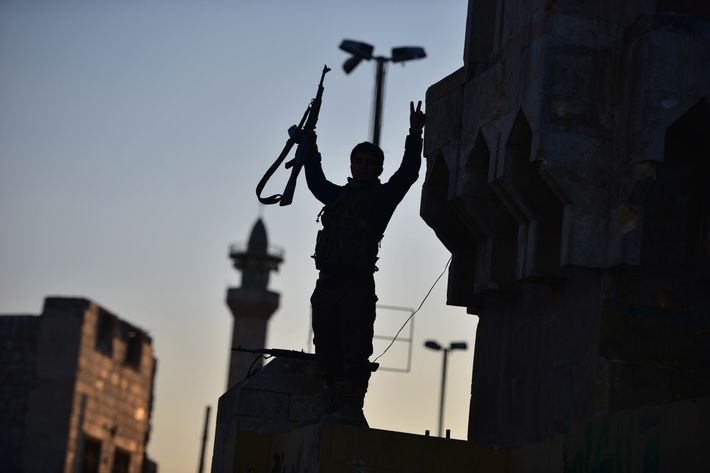 Syrian rebels, heavily supported by Turkey, said they had reached the city's center and wrested control from the terrorists, though the area is reportedly still littered with mines. "We will be able to say that al-Bab is fully cleared of Daesh once the sweeping activity is concluded," Turkish Defense Minister Fikri Isik told the Turkish state-run media.