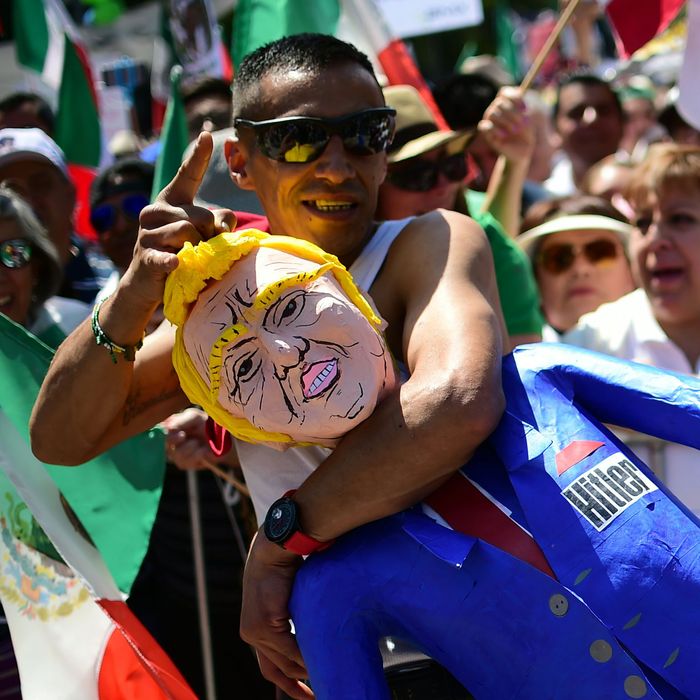 Thousands take part in an anti-Trump march in Mexico City, on February 12, 2017.
Photo: Ronaldo Schemidt/AFP/Getty Images
Protests large and small have become a hallmark of President Donald Trump's first few weeks in office. America's southern neighbor joined the action in full on Sunday, with thousands marching in Mexico City and across the country to protest Trump's policies, from the border wall to deportation to the bad cosas he's said about Mexico and its people.
About 20,000 marched in Mexico City. They packed the Paseo de la Reforma, waving Mexican flags and signs with slogans such as "All Vs. Trump" and "No to the Wall," as they trooped from the National Auditorium to the Angel of Independence statue, where the crowd together sang the Mexican national anthem. "We are not against the American people. This is about Trump, who is spreading hate and division," Maria Garcia, a protester and former Chicago resident, told the Los Angeles Times. "The United States and Mexico are natural friends and allies, but Trump is destroying this."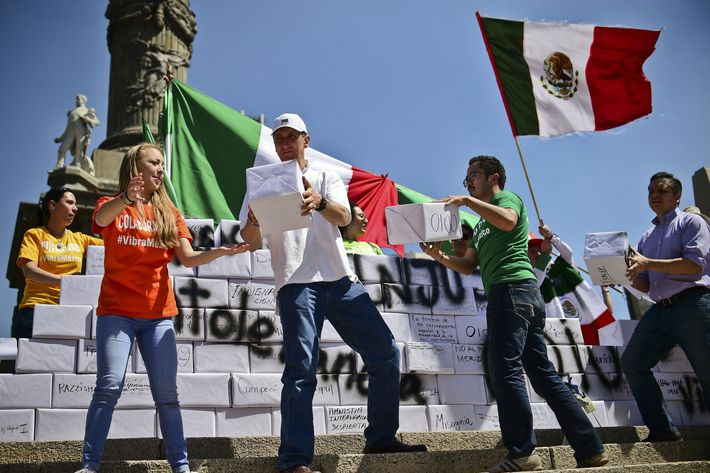 Thousands of others joined protests in 18 other cities, including Tijuana and Puebla. Organizers dubbed the event Vibra Mexico; more than about 70 civic and social organizations signed on to the demonstration.
Some people also spoke out against the Mexican government, and its president, Enrique Peña Nieto — while others sat out because they saw the protests as too supportive of the Mexican leader. Nieto suffers from abysmal approval ratings, but Mexico's feud with the Trump administration has served as a rallying cry for Mexican unity. Some of the president's critics are wary that Trump is giving Nieto something of an out, and that the ire toward the American president — while justified — is distracting from Mexico's corruption problem and economic concerns, which have been issues since long before Trump moved into the White House.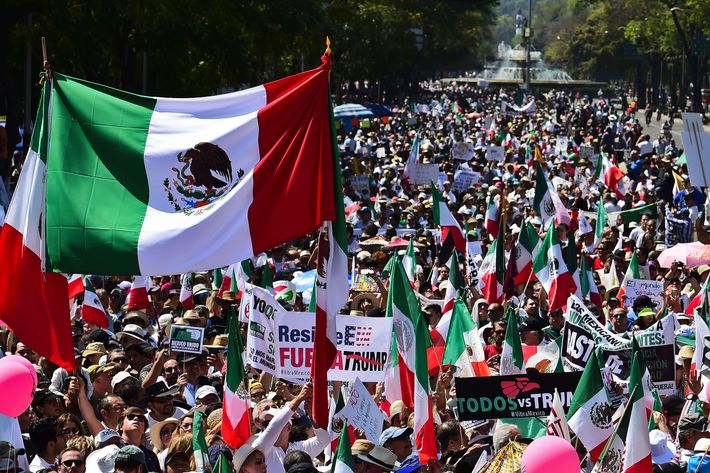 A rival march called "Mexicanos Unidos" was also organized, its participants calling on the country to band together behind Nieto. The two groups — though both anti-Trump — shouted insults back and forth when they encountered each other along the protest route.
The massive protests come on the heels of an immigration crackdown, with authorities arresting hundreds of undocumented workers across the U.S., many of whom will likely face deportation.