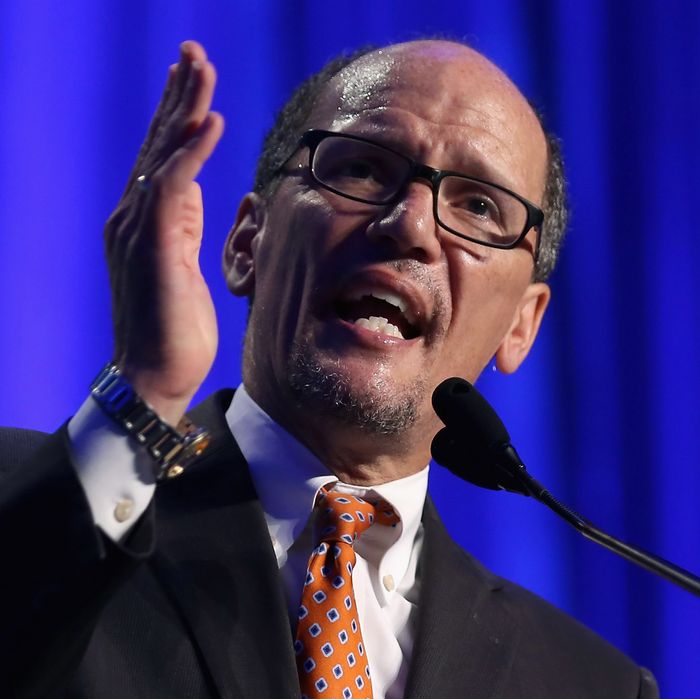 Tom Perez.
Photo: Chip Somodevilla/Getty Images
Jaime Harrison began Thursday with a grip on third place in the race for the chairmanship of the Democratic National Committee — and ended it by throwing his support to front-runner Tom Perez.
Before Harrison bowed out, it was widely assumed that the DNC contest wouldn't be settled on the first ballot. A crowded field, led by Perez and Minnesota congressman Keith Ellison, was expected to split the DNC's 447 members such that no candidate would have the simple majority required for victory. Weaker candidates would then drop out, allowing the stronger ones to vie for their endorsements.
Harrison and South Bend, Indiana's mayor Pete Buttigieg — who had been nipping at Harrison's heels in unofficial vote counts — were both counting on a surge of support on the second ballot to claim victory. But on Wednesday, Howard Dean (who helped engineer the Democrats' 2006 wave) endorsed Buttigieg, and Harrison appears to have concluded that his prospects were dim shortly thereafter.
"In a former job, I whipped votes for House Democrats. I know what a path to victory looks like," Harrison said in an email to DNC members. "Despite strong performances at the debate and DNC regional forums, the votes are simply not there for me to secure victory on Saturday."
NBC News reports that Harrison could swing as many as 20 votes into Perez's column —possibly enough for the former Labor secretary to secure the chairmanship on first ballot.