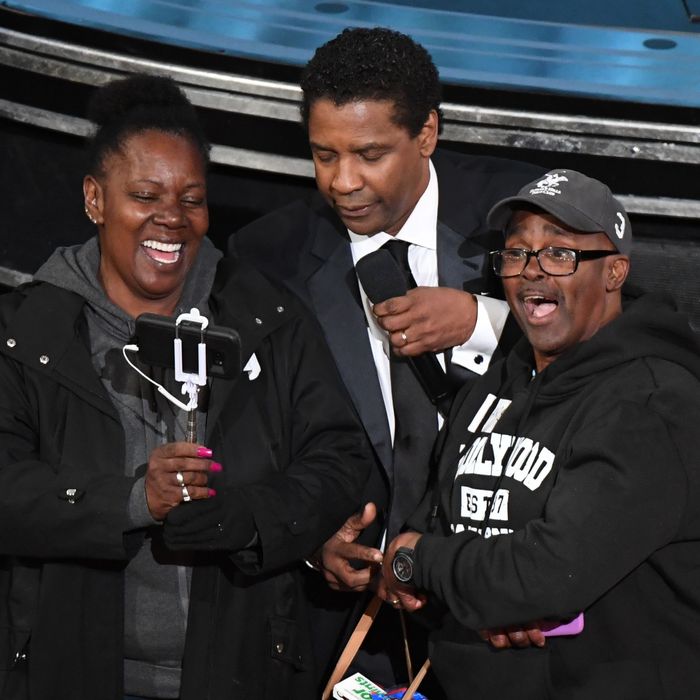 Meet Gary. A true star.
Photo: MARK RALSTON/AFP/Getty Images
In a much-previewed gag during tonight's Academy Awards, host Jimmy Kimmel invited a supposedly random group of tourists off a Los Angeles star-tour bus to into the show in the middle of the live telecast. The bit went on for a while — a gift for anyone who likes their humor drawn-out and awkward, and a disaster for everyone else — but was rescued by one unlikely hero: Gary from Chicago. Gary, cell phone in hand, stumbled into the Dolby Theatre a virtual unknown and walked out the Ken Bone of the Oscars. At least as far as Twitter is concerned.
In case you missed this wonderful moment, here's a quick breakdown of what happened. Gary, along with his fiancée, walked into the Oscars. Despite Kimmel's insistence that Gary would be able to watch the clip on television later, Gary clutched tightly to his purple cell phone. His fiancée mentioned that Denzel Washington was her favorite actor, prompting Kimmel to pull him up toward the couple. Washington then "married" Gary and his fiancée (who documented the moment with a selfie stick). Gary also took a selfie with Mahershala Ali, though it appears the photo he took featured only Ali's Oscar statue and not the actor himself. While the whole thing was fairly cringeworthy for those of us at home, Gary's "I'll do what I want" attitude helped salvage Kimmel's gag. "I feel like you're ignoring all the white celebrities," Kimmel said. "Yes, I am," Gary replied.
Here's hoping Gary's viral-fame cycle goes better than Ken Bone's did.