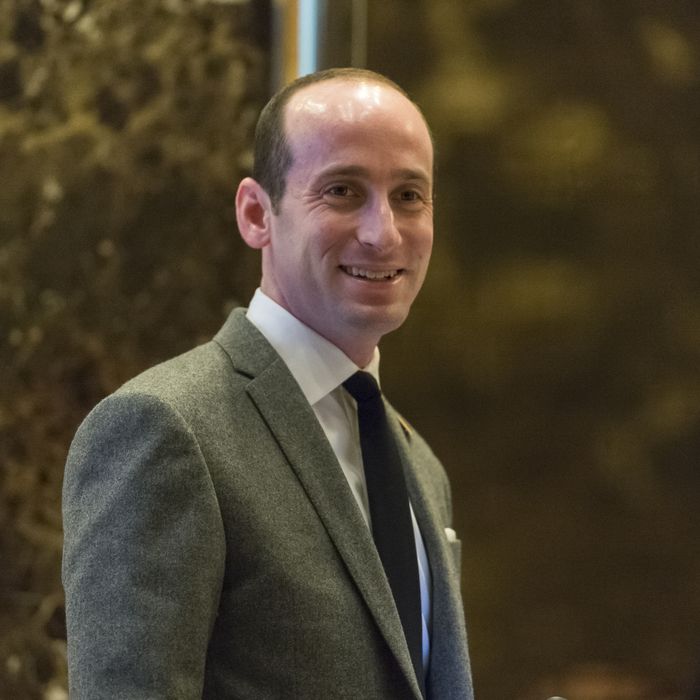 The order Stephen Miller crafted could not be better, says Stephen Miller.
Photo: Albin Lohr-Jones/Bloomberg via Getty Images
In the past week, President Trump's immigration executive order has sparked confusion worldwide, as well as large protests at airports across the U.S. and resistance from hundreds of government employees. Even some Republican lawmakers said that the order is too broad and was implemented poorly. However, Stephen Miller, the young adviser who reportedly crafted the order along with Steve Bannon, can't think of a thing he would have done differently.
Thursday on ABC News' "Powerhouse Politics" podcast, Miller said that, considering the large bureaucracy involved, "it is hard to envision a smoother rollout from an implementation standpoint."
Miller explained that the Trump administration believes "the next Trojan horse is just waiting to come in," so quickly suspending the entrance of refugees and immigrants from seven Muslim-majority nations was imperative to national security (though there are already elaborate vetting procedures in place, and that's not where the largest terror threat to the U.S. is coming from).
While the Washington Post put the number of those affected by the travel restriction at around 90,000, like others in the White House, Miller emphasized that only 109 people were detained for extra screenings at airports, "not counting, obviously, people who were turned away overseas."
"The reality is that, for virtually the entire country, the only disruption that occurred was the disruption created by protesters," Miller claimed.
"A few hours of inconvenience prior to a lifetime of entry should not be viewed as an overly consequential event," Miller said of those detained, adding that there shouldn't be so much focus on immigrants anyway. "What's really broken is we don't ask ourselves the question enough about how … immigration policies are designed for the benefit of Americans," he said.
Yet new reports on Thursday highlighted that, for many foreigners and Americans, the travel restriction is more than "a few hours of inconvenience." The State Department has "provisionally" canceled visas already issued to citizens of Iraq, Iran, Libya, Somalia, Sudan, Syria, and Yemen. Waivers can be granted "on a case-by-case basis," and the visas may be reinstated once the review period is over. As the New York Times explains:
But for now, the loss of their visas means that anyone from those countries who leaves the United States — even for funerals or family health emergencies — would be unable to return without getting a new visa, a lengthy process that cannot begin until the Trump administration has completed its review of the visa program.
The American Medical Association also warned this week that the restrictions could hurt seriously ill patients and international physicians, many of whom practice in underserved areas of the U.S.
"The AMA is concerned that this executive order is negatively impacting patient access to care and creating unintended consequences for our nation's health-care system," the letter said. "It is vitally important that this process not impact patient access to timely medical treatment."
Among those already affected are a 4-month-old Iranian girl whose family is trying to get her to Oregon for emergency heart surgery, and an 18-month-old Syrian refugee girl who was born without an eye. She's undergone several complex operations in Barcelona, and her family had cleared the security checks to settle in the U.S. before the order was implemented.
While the Trump administration insists the order isn't a ban on Muslims, at least 13 lawsuits filed across the country allege that the restrictions are unconstitutional. And even officials at the Department of Homeland Security don't share Miller's confidence that the order's rollout couldn't have gone any better. The department's inspector general announced on Wednesday that the DHS will review the implementation process in response to whistleblower and hotline complaints, as well as a request from Illinois senators Tammy Duckworth and Dick Durbin to examine the "rushed and poorly drafted" executive order.