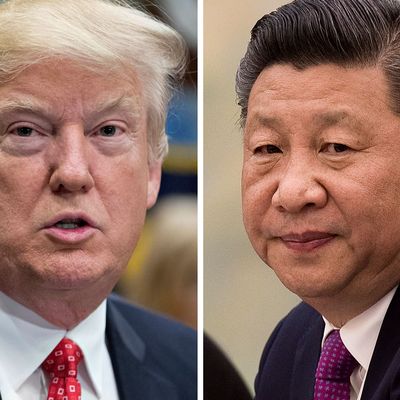 President Trump and President Xi Jinping.
Photo: Andrew Harrer - Pool; Nicolas Asouri - Pool/Getty Images
After angering China by accepting a congratulatory phone call from the leader of Taiwan, President-elect Trump suggested he would use the longstanding One China policy — which rules out recognizing Taiwan's independence — as a bargaining chip in negotiations with China. "Everything is under negotiation including One China," he told The Wall Street Journal a week before the inauguration.
This week the White House announced that President Trump sent Chinese President Xi Jinping a belated letter wishing him a happy Chinese New Year, and now we know what prompted the weird diplomatic outreach. Riled by Trump's suggestion that he may not honor the One China policy — and presumably his many other hostile remarks about China — Xi had not spoken to Trump since November 14.
On Thursday, the two leaders finally had a "lengthy conversation," and Trump agreed to honor the "One China" policy. While Trump once said he wouldn't uphold the policy "unless we make a deal with China having to do with other things, including trade," it appears the only thing the U.S. won was improved Sino-U.S. relations.
"The two leaders discussed numerous topics and President Trump agreed, at the request of President Xi, to honor our One China policy," the White House said in a statement, adding that the discussion was "extremely cordial" and that the presidents "extended invitations to meet in their respective countries."
According to China's official state-news agency Xinhua, Trump said he "admires the historic accomplishments of China's development," and expressed confidence that there could be a "new high" in relations between the two countries.
The call came on the eve of a U.S. summit with one of China's key rivals. On Friday, Trump will meet with Japanese prime minister Shinzo Abe at the White House, then the two leaders will spend the weekend at Mar-a-Lago, Trump's club in Palm Beach, Florida.