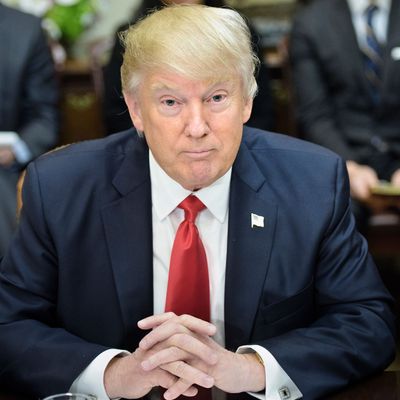 Photo: Brendan Smialowski/AFP/Getty Images
President Donald Trump has carelessly escalated his attacks on the U.S. judicial system in light of a federal judge temporarily blocking his travel ban on refugees and citizens of seven predominantly Muslim countries. That order, issued in Washington State by Judge James Robart on Friday, led the Department of Homeland Security to suspend their enforcement of the ban and the State Department to reinstate all U.S. visas that had been revoked in accordance with Trump's executive order. In response, President Trump spent much of Saturday criticizing both the ruling as well as appearing to delegitimize "this so-called judge" who issued it. On Sunday, he went even further, suggesting that Judge Robart and the entire U.S. court system should face the blame if the U.S. faces a future terrorist attack.

"Just cannot believe a judge would put our country in such peril," Trump stated, "if something happens blame him and court system." The president then falsely claimed, "People pouring in. Bad!" In fact, there is not only no evidence that any of the current U.S. visa holders that were affected by Trump's ban are in any way dangerous, there is also no evidence of any surge of visa holders attempting to travel to the U.S. following the suspension of the ban. While some foreigners are taking advantage of the ban suspension to travel to the U.S., most reports indicate it has been a relatively small number of people. And again, those people have already faced some of the most intensive vetting done by any country in the world under the existing visa-approval process.
"I have instructed Homeland Security to check people coming into our country VERY CAREFULLY," Trump added in another tweet. "The courts are making the job very difficult!" This is also incorrect. By virtually all accounts, the federal government was already screening visitors, immigrants, and especially refugees to the U.S. very carefully, and no citizens from the seven countries included in Trump's ban have perpetrated a fatal terrorist attack on U.S. soil over the past four decades.
In expanding his attacks to the U.S. judicial branch, Trump is likely referring not only to Robart, but also to the Ninth Circuit Court of Appeals, which on Sunday rejected the Justice Department's request for an emergency stay against Robart's order, pending appeal. That ruling does not mean the Trump administration can't eventually win an appeal that reinstates the travel ban, just that the Ninth Circuit won't immediately overrule Robart's restraining order before hearing the government's case — a process which is set to begin on Monday.