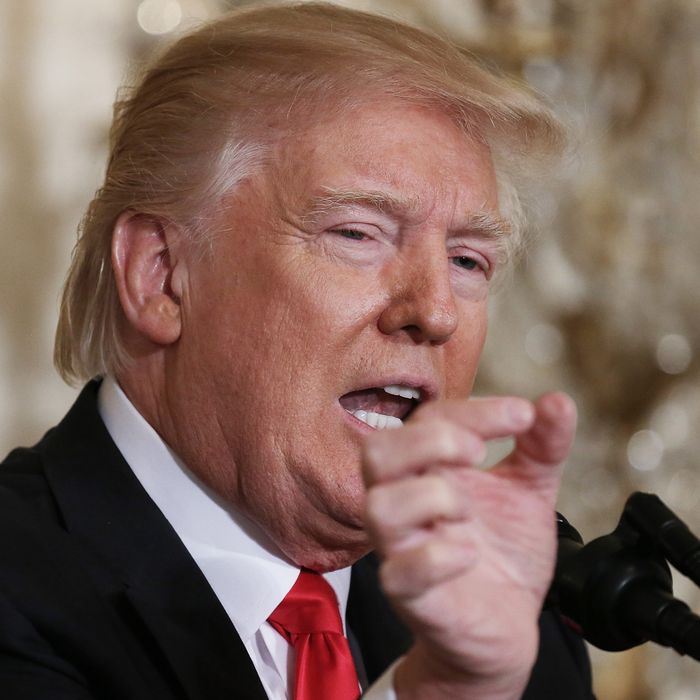 "My racism is literally this small. It's the smallest racism."
Photo: Mario Tama/Getty Images
On Thursday, the president of the United States called himself the "the least anti-Semitic person that you've ever seen in your entire life," and, also, "the least racist person."
This declaration came after a Jewish reporter asked President Trump about recent threats made against 48 Jewish community centers across America.
After assuring the reporter that he has less animus toward Jews than anyone else (including, ostensibly, all Jews), the president argued that there had not actually been an uptick in anti-Semitic activity in recent months — and that reports to the contrary were, in fact, false flags.
Minutes after declaring himself the least anti-black man in existence, Trump took a question from American Urban Radio Networks' D.C. bureau chief, April Ryan.
Ryan asked if Trump planned to seek the advice of "the CBC" when crafting his urban agenda. The president was confused. Ryan explained that she was referring to the Congressional Black Caucus.
"Do you want to set up the meeting? Are they friends of yours?" Trump asked the African-American journalist.
"No, I'm just a reporter," Ryan said.
"Set up a meeting," the president interrupted. "I would love to meet with the Congressional Black Caucus."