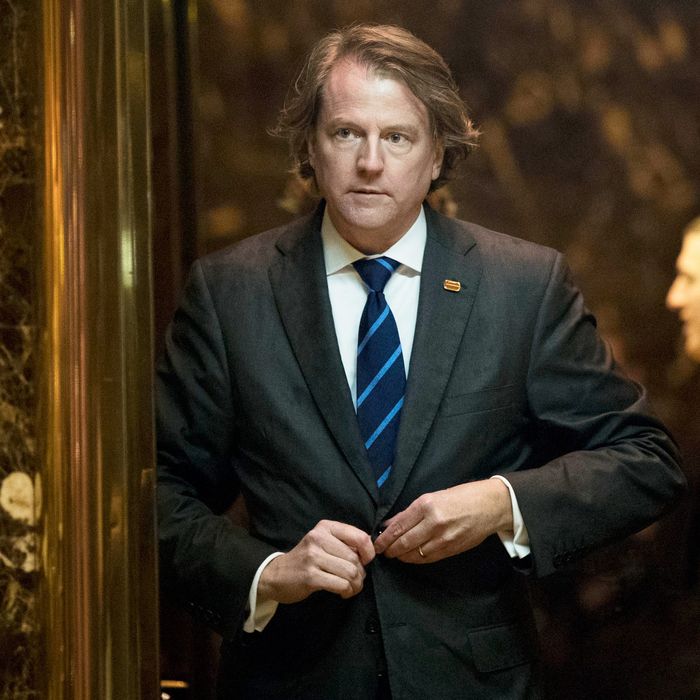 Once again, White House counsel Donald McGahn is at the center of a big mess in the Trump administration.
Photo: Drew Angerer/Getty Images
The two rationalizations we are already hearing from the Trump defenders about the Michael Flynn-Russia fiasco are that he's the victim of some sort of media and intelligence-community sting that he was too naïve to avoid, and that, conversely, he's a bad dude who misled Mike Pence and other Trump pooh-bahs, so he's gone and it's "time to move on."
But the trouble with either effort to avoid deeper questions about Flynn's communications with Russians is that Obama administration officials knew Flynn was lying about the contacts and their content, and informed the Trump White House. Specifically, shortly before she was fired for her refusal to defend Trump's travel ban in court, Acting attorney general Sally Yates told White House counsel Donald McGahn that a routine FBI tap on Russian ambassador Sergey Kislyak had turned up one conversation that most definitely included discussion of the Obama's administration's impending sanctions on Russia for its interference in the U.S. election. Flynn would continue to lie about whether this conversation had occurred, before backtracking and admitting it but denying sanctions were discussed, and then pleading general amnesia before the hammer came down.
So what happened in the White House between Yates's call to McGahn and the explosion Monday night? After all, most of Flynn's brief tenure as national security adviser fell into this period when his colleagues, including the president and vice-president (himself ensnared in Flynn's deceptions via public assurances the former general did nothing wrong), should have been aware the man was hiding his tracks over actions that made him vulnerable to blackmail. It's hard to imagine this matter getting lost in the bureaucratic haze given widespread suspicions the new administration had a "Russia problem" that could undermine its very legitimacy.
At Lawfare, Jack Goldsmith poses the obvious question about what McGahn did with Yates's disclosure, and notes the attorney often described as unconventional does not seem to have a very good grip on his responsibilities:
Other questions will and should be asked about what McGahn has done to enforce ethics rules. Ethics compliance is one of the White House Counsel's primary responsibilities. The multiple ethics problems swirling around the White House are squarely McGahn's responsibility. There were early indications that McGahn ignored the usual protocols for ethics vetting of Cabinet officials. Since then the problem has only grown worse and has drawn bipartisan ire. One wants to know what McGahn's role has been in ensuring (or not ensuring) compliance with relevant ethics rules.
And that's aside from McGahn's central role in the disastrous rollout of Trump's travel ban.
As Goldsmith notes, it is likely that either McGahn is not very good at his job, or has too little access to the president to do his job of keeping him and his closest associates out of trouble. There is, however, a troubling third possibility:
[It] may be that Trump is simply a rogue elephant whom no chains can bind, and that McGahn is giving Trump appropriate advice that is having no impact on his behavior.
That's all the more reason the Flynn mess needs to be explored further, not blamed on the administration's enemies or brushed under the rug as we all "move on" to the next crisis emerging from this administration. Maybe Flynn is simply the erratic fellow so many people described in horror when he emerged as Trump's top national-security adviser during the campaign. But quite possibly Flynn's behavior is the string that when pulled will unravel a much larger ball of yarn.