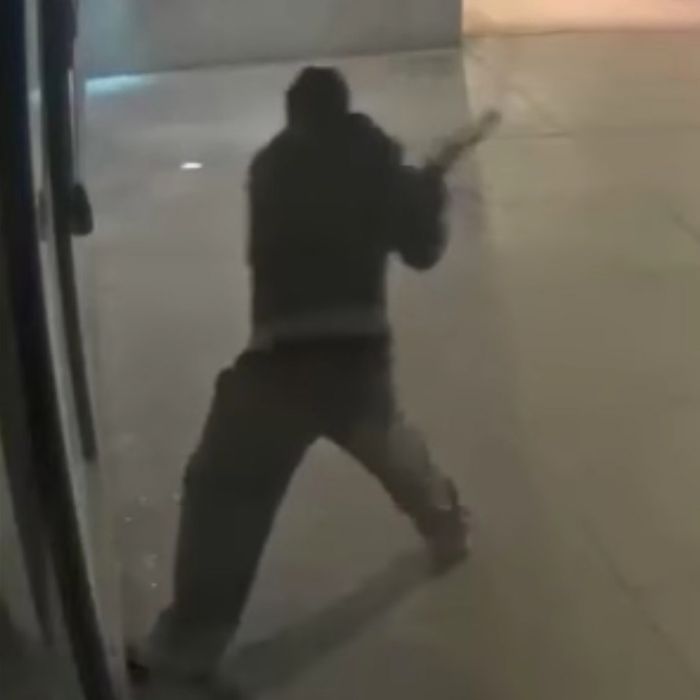 The president finally acknowledged incidents like this vandalization of a Chicago synagogue.
It took a long time, but after a specific request from the Anti-Defamation League that the president acknowledge and denounce the recent rise in anti-Semitic incidents, President Trump did so in response to a press question today:
"Anti-Semitism is horrible and it's going to stop," Trump told NBC News's Craig Melvin, while answering reporters questions during a tour of Washington, D.C.'s new National Museum of African American History and Culture for the first time.
The 45th president has often denied any sympathy for anti-Semitism. But what makes today's remarks significant is their simplicity. Trump often couches comments on anti-Semitism in angry and defensive assaults on questioners, as he did when asked about the rise in disturbing incidents during last week's marathon press conference:
Toward the end of a 77-minute press conference, Trump searched the room "to find a friendly reporter," before landing on Jake Turx of Ami Magazine, a Jewish publication.

"What we are concerned about and what we haven't really heard you address is the uptick in anti-Semitism and how you intend to take care of it," the reporter said, citing statistics that indicated a recent rise in anti-Semitic acts …

Turx prefaced his question by saying he hasn't seen "anyone in my community accuse either yourself or anyone on your staff of being anti-Semitic."

"See he said he was going to ask a very simple question and it's not," Trump shot back.
This time the president did not argue with the questioner or deny the premise. Maybe he was just busy, or maybe he's actually learning that not all questions are strictly about Donald J. Trump.
Today's comments capped a tough few days for anti-Semites who view Donald Trump and his political movement as legitimizers of their point of view. First, "alt-right" provocateur and Breitbart editor Milo Yiannopoulos, who has on occasion — "ironically" or not, depending on your perspective—given vent to anti-Semitic attitudes, was disinvited from a speaking gig at this week's CPAC hoedown, and also lost a book deal.
It's true Yiannopoulos's troubles stemmed mostly from remarks about pedophilia which came to light in the wake of his CPAC invitation. But more generally, his initial inclusion at CPAC was broadly viewed as "mainstreaming" the alt-right folk for whom he has often acted as a translator and a bit of a mascot. So now, actual anti-Semites are nearly as far from respectability as ever.