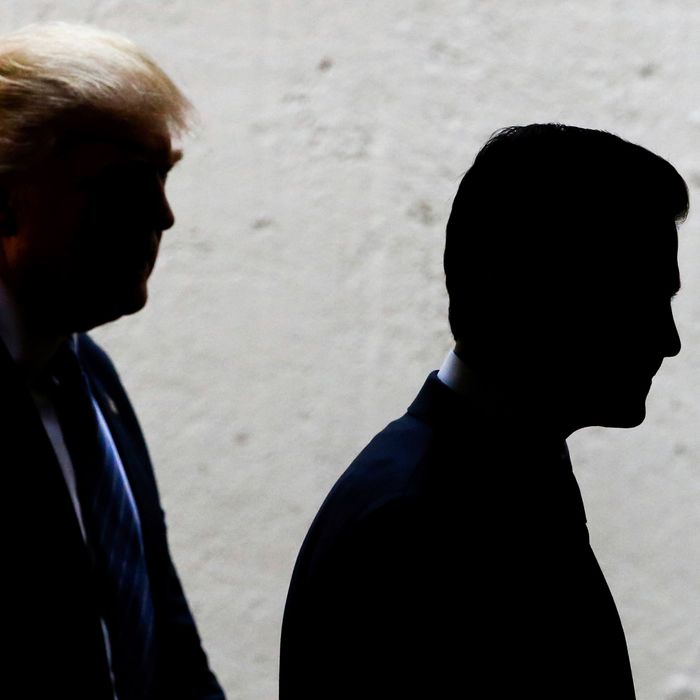 Mexico's president Enrique Peña Nieto has struggled in Donald Trump's shadow. But he can turn that to his benefit.
Photo: Hector Vivas/STR/LatinContent/Getty Images
The election of Donald Trump has caused all sorts of grief and anxiety for the government of Mexico, which has to cope with the fallout from the new regime's policies on immigration, refugees, and border control; its demands for a more U.S.-favorable renegotiation of NAFTA; and its manifold insults to Mexican pride.
But as Pedro Gerson of the Ibero-American University and the Mexico Autonomous Institute of Technology argues today in the Washington Post, one prominent member of the Mexican government could ultimately find in Trump an indispensable if inadvertent ally: President Enrique Peña Nieto.
Peña Nieto, you see, is unpopular in a way that makes Trump's bad approval ratings look like a public-opinion paradise. His approval rating, at 12 percent, is the worst in Mexican history. And his situation seems to get worse with every page of the calendar:
Since 2013 the administration has committed one blunder after another. Most notably, the president has borne the brunt of a major corruption scandal involving his wife and a lavish home, managed to mishandle the largest human rights tragedy in recent Mexican history and, perhaps most unbelievably, legitimized candidate Trump by inviting him to Mexico on what looked like a state visit. Peña Nieto's responses to all of these cases and crises has seemed at best incompetent, in some cases downright negligent.
But, suggests Gerson, if Peña Nieto can just focus on exploiting the vast and fearful publicity Trump is securing in Mexico, and treat him as an all-purpose boogeyman, it could do wonders for his political standing going into next year's presidential campaign. He is constitutionally barred from standing for reelection, but his party need not go down to what now looks like certain defeat.
Mexicans all along the political spectrum are offering the president suggestions on how to do this. A leftist collective called on the government to start accepting refugees in defiance of Trump's Muslim ban. Jorge Castañeda, a former minister of foreign affairs, has said that Peña Nieto should accept deported migrants from the United States only if they can prove that they are Mexican citizens. Given that many immigrants lack any identification, this measure would severely hamper deportation efforts. Others have recommended that Peña Nieto should collaborate with officials in the United States who are openly pro-immigration, appearing in public with figures such as California Gov. Jerry Brown. Finally, some have even argued that Peña Nieto should refuse discussions on NAFTA in order to avoid a potentially devastating period of economic uncertainty during the renegotiation. If this were to happen, Trump would have to answer for NAFTA's demise to the largely Republican constituency that benefits from it.
The bottom line is that by becoming the anti-Trump, Peña Nieto could make himself a national rallying point against the bully to the north. In particular, he could steal some thunder from his leftist rival Andrés Manuel López Obrador, at present the odds-on favorite to replace the incumbent next year. He might even, says Gerson, get his corruption-ridden, status-quo-oriented PRI party back in touch with its revolutionary roots as a populist and anti-gringo party.
If Peña Nieto takes this advice and revives his and his party's prospects, then Americans might learn something from that development, too: Trump indeed does have coattails. But they are as likely to be negative as positive.
(Note: this article originally referred to the Mexican president's "reelection." The Mexican constitution limits presidents to a single term. We regret the error.)