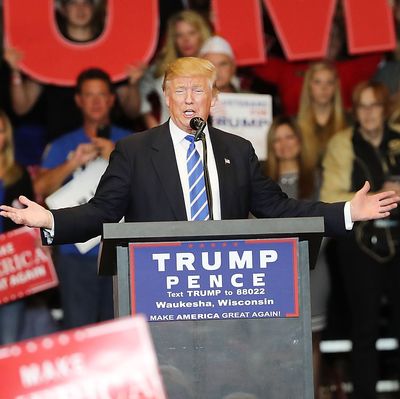 A Trump rally in Waukesha, Wisconsin, on September 28, 2016.
Photo: Spencer Platt/Getty Images
So far, massive protests have been a regular feature of Donald Trump's presidency, but Harley-Davidson was reportedly uninterested in being the site of the president's first out-of-state encounter with the demonstrators. An administration official told CNN that President Trump was set to visit a Harley-Davidson factory in Milwaukee on Thursday, but the trip was called off after the company decided it didn't want to deal with a planned protest.
The White House announced the visit to Milwaukee on Monday, but did not give a specific location. Technical Sergeant Meghan Skrepenski, with the 128th Air Refueling Wing of the Air National Guard in Milwaukee, confirmed to the AP on Tuesday that the trip was canceled.
Trump was expected to sign executive orders related to manufacturing during the trip. The group Milwaukee Coalition Against Trump said it organized a call-in protest to Harley-Davidson after learning that Trump would tour the company's plant in Menomonee Falls. By Tuesday afternoon, 1,200 people said on the group's Facebook page that they were planning to protest outside the plant on Thursday.
Harley-Davidson issued a statement on Tuesday saying they "don't have, nor did we have, a scheduled visit from the president this week at any of our facilities." The statement noted that the company has hosted three of the last five presidents, and said, "We look forward to hosting the president in the future."
A White House spokesperson denied that the visit was called off because of the planned demonstration. "Due to scheduling, the leadership he was potentially traveling to meet with is now coming here," said Deputy Press Secretary Stephanie Grisham.
Members of the Milwaukee Coalition Against Trump, who were marching against the immigration ban on Tuesday, cheered when they heard the news. "He's not welcome in this state," Maricela Aguilar Monroy told Fox 6 Now.
Van Mobley, president of the Village of Thiensville, Wisconsin, laughed at the suggestion that a demonstration could keep the president away. "I think he would get a warm welcome in Wisconsin," he said. "I don't think he's scared of coming to Wisconsin. I think he's busy."