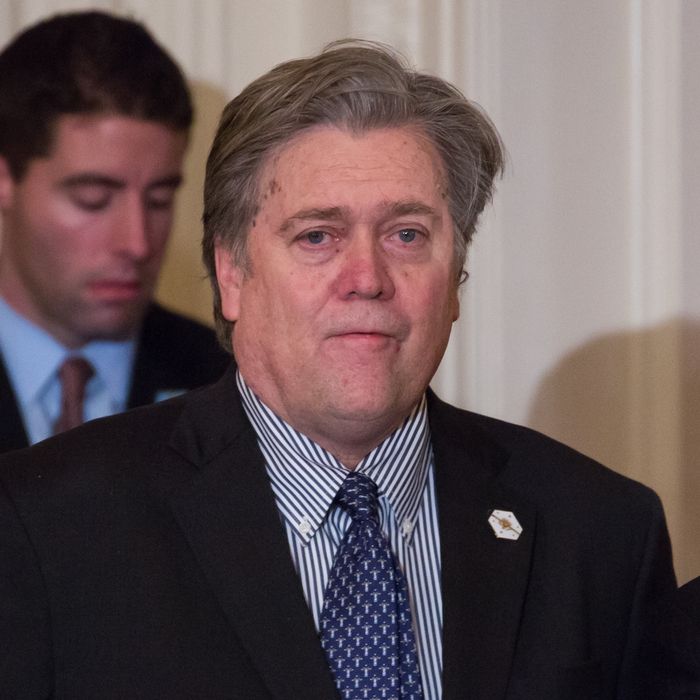 Trump read one of the orders he signed, and he's not happy.
Photo: Cheriss May/NurPhoto via Getty Images
If President Trump values loyalty so much, why hasn't he been able to stop the constant flow of leaks from inside his White House? The latest dispatch from the New York Times' Glenn Thrush and Maggie Haberman suggests the Trump administration has far bigger problems on its hands:
Aides confer in the dark because they cannot figure out how to operate the light switches in the cabinet room. Visitors conclude their meetings and then wander around, testing doorknobs until finding one that leads to an exit. In a darkened, mostly empty West Wing, Mr. Trump's provocative chief strategist, Stephen K. Bannon, finishes another 16-hour day planning new lines of attack.
The piece is chock-full of tidbits that bolster previous reports that aides treat the president like a moody teenager who watches too much TV. Highlights include:
• Trump is still struggling to work in his requisite amount of TV time. He's upgraded the TV in his private dining room so he can watch the news with lunch, and he almost always makes time to watch White House Press Secretary Sean Spicer's daily briefing, which can last as long as 50 minutes. Trump summons Spicer to critique his performance, and the two regularly go through news clips, with the president marking unfavorable coverage with a black Sharpie.
• Trump heads up to the residence around 6:30 p.m., and "When Mr. Trump is not watching television in his bathrobe or on his phone reaching out to old campaign hands and advisers, he will sometimes set off to explore the unfamiliar surroundings of his new home."
• Trump finds the backdrop of the Oval Office validating, and is "obsessed" with the décor — but he doesn't always get the details right. Though he excitedly poured over a book that offered him 17 options for window furnishings, he incorrectly bragged to a visitor that his office drapes were used by Franklin Roosevelt when they were actually made for Bill Clinton.
Lightbulb jokes aside, there's truly alarming news tucked deep in the piece. The Times reports that in response to the chaos of the first few weeks, Trump has directed his chief of staff, Reince Priebus, to implement a more orderly process for executive orders — including having the president looped in "much earlier in the process." And the sloppily executed travel restrictions aren't what's bothering the president:
Mr. Priebus bristles at the perception that he occupies a diminished perch in the West Wing pecking order compared with previous chiefs. But for the moment, Mr. Bannon remains the president's dominant adviser, despite Mr. Trump's anger that he was not fully briefed on details of the executive order he signed giving his chief strategist a seat on the National Security Council, a greater source of frustration to the president than the fallout from the travel ban.
Many interpreted that to mean that Bannon made himself a regular on the National Security Council Principals Committee and Trump didn't realize it until after he'd signed the executive order. But it's not clear what Trump is angry about. Thrush retweeted a remark from Time's Zeke Miller that suggested Bannon did tell Trump about his new NSC role before the order was signed:
Time's Bannon cover story notes that the president added his CIA director as a regular attendee of NSC meetings:
Days later, the President even intervened to amend the order that appointed Bannon to a regular spot on the National Security Council. Trump wanted his CIA director, Mike Pompeo, there too.
It's possible Trump was angry about the omission of Pompeo, not Bannon's elevated role. Either way, it's incredible that Trump may have signed an executive order he didn't fully comprehend and that someone was willing to leak that to the press.