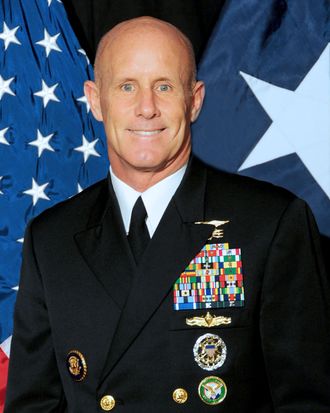 Robert Harward.
Photo: US Navy
Donald Trump's cabinet appointees tend to fall into one of two categories: the ethically questionable and the delusionally bigoted. Rex Tillerson, Tom Price, and most of the Goldman Sachs gang fit into the first category; Jeff Sessions, Steve Bannon, and Michael Flynn fit into the latter.
But now that Flynn has been ousted, Trump appears set to reach into the former bucket for his replacement: Reuters reports that the president has asked former Navy SEAL — and current Lockheed Martin executive — Vice Admiral Robert Harward to be his national security adviser.
Beyond Harward's current association with a defense contractor (whose bottom line could, ostensibly, be impacted by his national-security advice) there's little cause for alarm on his résumé. Or, at least, his CV contains less conspicuous cause for alarm than Michael "Fear of Muslims is rational" Flynn's once did.
Harward has long-standing ties to Defense Secretary James Mattis, who's seen as a relative moderate on Trump's national security team. When Mattis led U.S. Central Command, Harward was his deputy.
The Rhode Island native attended school in Tehran before the Iranian Revolution, and served on the National Security Council under George W. Bush. Harward has deployed on combat missions as a SEAL, and served in Iraq and Afghanistan.
As a Lockheed executive, Harward has overseen the defense contractor's business in the United Arab Emirates and the broader Middle East. As of this writing, it is unclear whether he has accepted Trump's job offer.