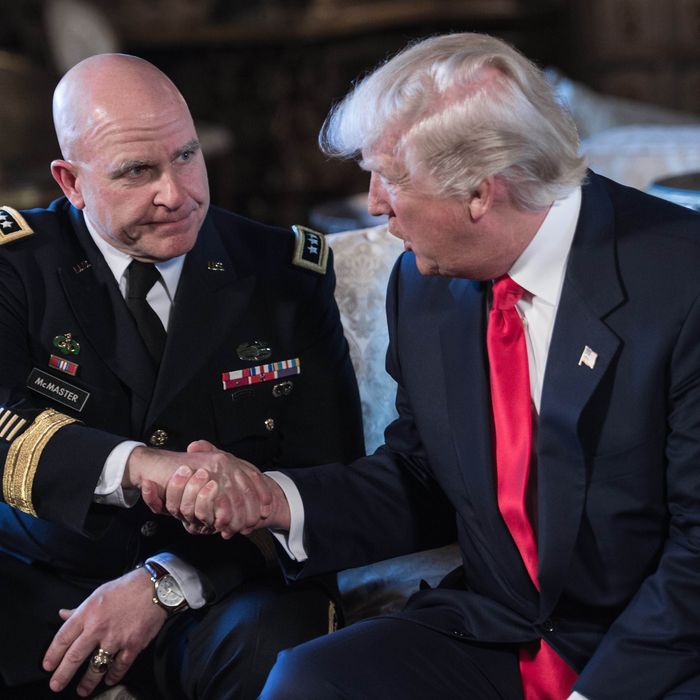 U.S. Army Lieutenant General H.R. McMaster and President Trump.
Photo: NICHOLAS KAMM/AFP/Getty Images
President Donald Trump has found his national security adviser and once again, it's a general. On Monday, Trump named Lieutenant General H.R. McMaster as his replacement for former NSA Michael Flynn and called the 54-year-old "a man of tremendous talent and tremendous experience."
Trump made the announcement while sitting on a golden couch at his Mar-a-Lago club in Palm Beach, Florida, where he also said that acting NSA Keith Kellogg, a retired lieutenant general, will serve under McMaster as chief of staff. Additionally, Trump said that former U.N. ambassador John Bolton, a candidate for the NSA job, will be asked to "work with us in a somewhat different capacity."
A career Army officer, McMaster previously served as the director of the Army Capabilities Integration Center, described by USA Today as "an internal think tank that looks at future threats and how to deal with them." In 2014, he was named to Time magazine's 100 most influential list and called the "architect of the future U.S. Army." In the magazine, retired Lieutenant General Dave Barno described McMaster as an iconoclast who "repeatedly bucked the system and survived to join its senior ranks."
The West Point graduate also has a Ph.D. from the University of North Carolina at Chapel Hill. His dissertation was turned into the 1997 book Dereliction of Duty, which CNN said in 2006 is "considered the seminal work on military's responsibility during Vietnam to confront their civilian bosses when strategy was not working."
While McMaster's academic bona fides may stand in contrast with Trump's — the Times says he's "seen as one of the Army's leading intellectuals" — he shares the president's opinion that the U.S. military is too small. "We are outranged and outgunned by many potential adversaries," he said at a 2016 hearing of the Air-Land subcommittee of the Senate Armed Services Committee. "Our army in the future risks being too small to secure the nation."
McMaster, who has been described as a "blunt-spoken bulldog," joins Defense Secretary James Mattis, whose nickname is "Mad Dog," and Homeland Security head John Kelly, a "no-nonsense pragmatist," as one-time generals who have signed up to work in the Trump administration.