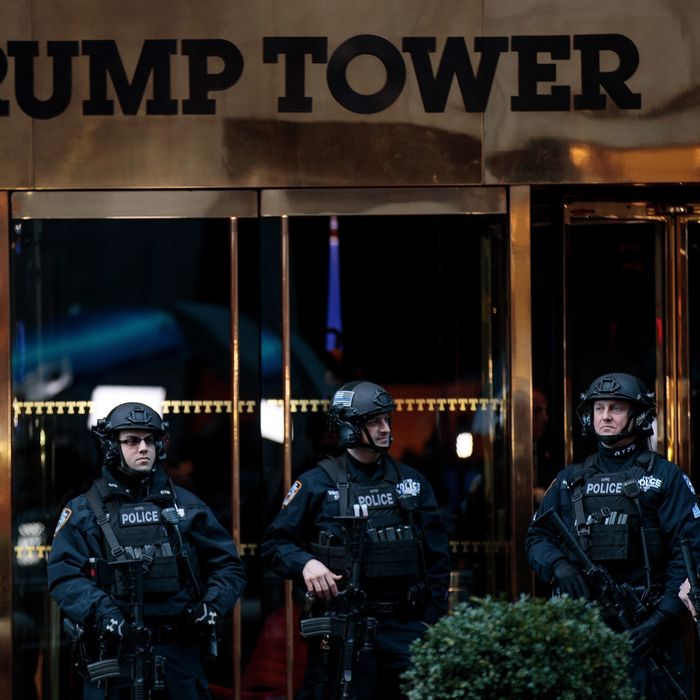 $308,000 per day.
Photo: Drew Angerer/Getty Images
Turns out New York City slightly overestimated the cost of protecting then–President-Elect Donald Trump and Trump Tower from Election Day to Inauguration Day. The final figure comes out to $25.7 million — $24 million for NYPD operations, and $1.7 million for FDNY expenses. Mayor Bill de Blasio had estimated, and initially sought, $35 million from the federal government, which comes out to about $500,000 per day for those two-and-a-half-months' worth of security costs.
NYPD Commissioner James P. O'Neill reported Tuesday on the savings in a letter to lawmakers, whom he's requesting help to get federal-government reimbursement. O'Neill cited analysis of payrolls, overtime sheets, and more than 25,000 patrol log entries for the revised number, which still comes out to about $308,000 day.
Congress set aside $7 million as reimbursement to the city, still well below the final price tag. Plus, Trump's bill isn't exactly settled. The NYPD estimates that it will continue to cost between an average of $127,ooo to $146,000 per day to guard Trump Tower as long as First Lady Melania Trump and their son, Barron, live there. Those expenses go up significantly if President Trump stops by for a visit, or begins hanging out in New York on weekends. O'Neill can't give exact numbers, but if (more likely when) Trump returns as POTUS, those security costs will likely exceed $308,000 per day. And, as O'Neill points out, whether or not Donald returns often, Trump Tower itself is a terror target by dint of its association with the commander-in-chief, which "further strains our [the NYPD's] limited counterterrorism resources."