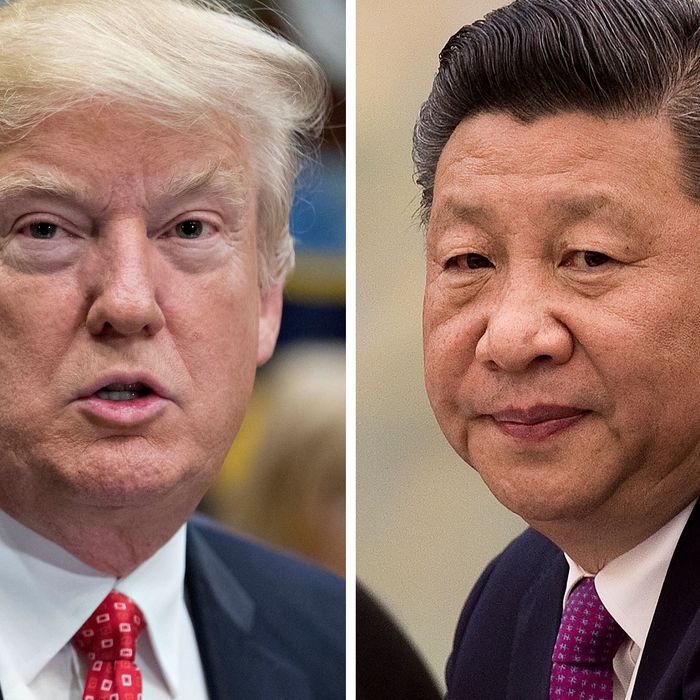 Trump is not off to a very good start in relations with the leader of a country he considers a primary rival.
Photo: Andrew Harrer - Pool; Nicolas Asouri - Pool/Getty Images
In unlikely diplomatic news, President Trump sent a letter to Chinese leader Xi Jinping expressing best wishes for the Chinese New Year and hopes for a "constructive relationship."
Trouble is, the Year of the Rooster began 11 days earlier, and Xi had reached out to Trump a week before that in a missive congratulating him on his inauguration. Maybe Trump should have asked someone to find one of those "Belated Holiday Wishes" cards.
The gesture was actually quite a bit later than 11 days. Trump rattled hypothetical sabers at Beijing on both economic and security issues throughout the 2016 campaign. Yes, he had a brief conversation with Xi when the Chinese leader called him with congratulations a few days after the U.S. election. But that was more than wiped out when in one of his very first public foreign-policy steps Trump held a highly provocative conversation with Taiwanese president Tsai Ing-wen. Putting aside the decades-long protocols that chat broke, Trump's defiant attitude toward Chinese complaints about the call reinforced the realization that he was reaching out to what Beijing considers a rebellious province without reaching out to the mainland. And in the ensuing months, Trump has had direct contact with 18 world leaders — but not with Xi.
The Chinese are taking it all in stride, but you have to wonder what price they will later demand in recompense for all the overt and indirect insults they have received from Trump since his unlikely emergence as a respectable political figure and then as president. Bluster and intimidation and keeping adversaries off balance are central to Trump's style in both domestic and international politics. But it is not yet clear this rooster's year has dawned over a troubled Pacific. And from Trump's own daughter (who showed up unexpectedly at a Lunar New Year event at the Chinese embassy in Washington) to his various envoys, you can be sure Team Trump will have its hands full making sure the rhetorical missiles the Boss keeps lobbing toward China aren't mistaken for the threat of the real thing.