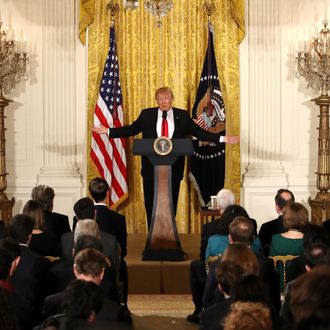 Donald Trump.
Photo: Mark Wilson/Getty Images
Sean Spicer won't have to do two jobs anymore. President Donald Trump is reportedly tapping longtime GOP media strategist Mike Dubke for the role of White House communications director, according to administration sources. Spicer had been serving as interim director — in addition to his role as press secretary — because the White House had reportedly had trouble finding people who wanted the gig.
Dubke founded Crossroads Media, a consulting firm working with clients from the Republican Establishment — which means Trump is reaching outside his loyal circle for this hire. Dubke's mainstream credentials, however, have reportedly riled some Trump allies, CNN reports, because, as one source said, "Dubke and his Crossroads friends did everything they could to kill the Trump movement and failed."
Dubke will relieve Spicer, and step into the position that was supposed to go to Jason Miller, a former Trump campaign spokesman, who quit the job to spend more time with his family amid allegations of an extramarital affair.