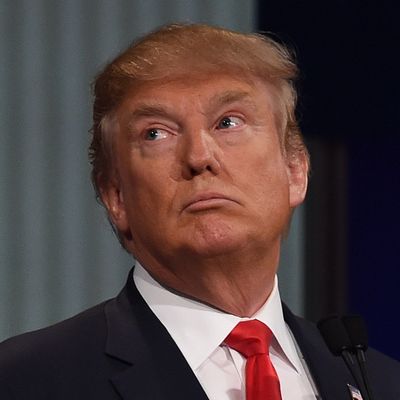 Photo: Timothy A. Clary/AFP/Getty Images
This morning, as he does on most days, President Trump emerged from his slumber, hoisted his Android phone into the air, and dashed off a handful of angry tweets: "The fake news media is going crazy with their conspiracy theories and blind hatred," read one. "@MSNBC & @CNN are unwatchable. @foxandfriends is great!"
Trump's obsession with cable news is well-known. But what's become increasingly clear over the last few months is how important that obsession is to the president's daily Twitter pronouncements: Whatever appears onscreen on the shows President Trump is watching — the aforementioned Fox & Friends and MSNBC's Morning Joe seem to be his favorites — becomes a Twitter talking point for the leader of the free world moments later. Thanks to down-to-the-minute time stamps, Twitter reveals that the country is being led not just by a dyspeptic bully, but a dyspeptic bully whose public pronouncements are driven by the daily vapidities of cable news.
It's become something of a ritual for reporters brave enough to watch cable-news morning shows to look at what Trump tweets, and then reverse engineer whatever he was watching at the time. Below is a running list of those incidents.
November 29, 2016: Flag Burning
At 6:55 a.m., President-elect Trump becomes incensed about flag burning on college campuses, threatening to make the exercise of free speech a crime.
His tweets come just a half-hour after a Fox News segment on flag burning.
January 24, 2017: Crime in Chicago
At 9:25 p.m., Trump threatens to send federal forces into Chicago to deal with the city's continually high rate of shootings. Unlike most of Trump's statements, he cites actual facts and figures this time.
The use of statistics in this case is a smoking gun, given the prevalent assumption that Trump does not do much reading, if any. If he didn't get the stats from a report, where did he get them from?
January 26, 2017: Chelsea Manning
At 6:04 a.m., Trump calls leaker Chelsea Manning, whose sentence was commuted by Obama in the final days of his term, an "Ungrateful TRAITOR."
The exact term, "ungrateful traitor," appears in large print on a Fox News chyron. In this case, Trump was fed not only the opinion but also specific phrasing by the graphics producer at Fox.
January 27, 2017: Voter Fraud
At 8:12 a.m., President Trump tweets support for noted idiot and conspiracy theorist Gregg Phillips and his assertion that 3 million people voted illegally.
Trump's remarks reportedly came minutes after a CNN segment in which Chris Cuomo interviewed Phillips about his unsupported claims.
February 2, 2017: UC Berkeley
At 6:13 a.m., Trump tweets about the turmoil on UC Berkeley's campus surrounding a talk by right-wing hatemonger Milo Yiannopoulos. The talk was canceled before it began due to protests. In response, Trump threatened to find a way to pull the university's federal funding.
Roughly a half-hour prior, Fox & Friends featured alleged piss-obsessive Todd Starnes, who suggested that UC should get its funding pulled unless it protects right-wing hate speech on campus.
February 6, 2017: Decision-making
At 7:07 a.m., our first quant President Donald Trump writes about how much he loves using data to make his own decisions.
Over the weekend, numerous outlets had reported the growing influence of presidential adviser Steve Bannon. A little less than an hour before Trump's tweet, MSNBC's Joe Scarborough wondered on air if Bannon was "calling the shots" in the Oval Office.
February 10, 2017: Muslim Ban
At 8:15 a.m., Trump addresses the Ninth Circuit Court of Appeals' decision to keep a stay on Trump's Muslim-travel ban in place. He quoted from a Lawfare blog post, which immediately set off alarm bells.
As we noted above, anytime Trump cites specific details, you can assume he got those details from a cable-news graphic. In this case, it was a Morning Joe excerpt 12 minutes prior to his tweet.
And, for what it's worth, the rest of the Lawfare post he cited was highly critical of the ban.
February 14, 2017: Leaks
At 9:28 a.m., Trump blasts the media for using leaked information from the intelligence community.
This particular line of attack — that the real news is the leaky American intel community, not Flynn — has featured heavily on Fox News in the last couple of days.
February 15, 2017: Crimea
At 7:42 a.m., Trump again tries to deflect scrutiny over his relationship with Russia by noting that the Ukrainian region of Crimea was annexed during his predecessor's administration.
According to New York Times correspondent Sopan Deb, that talking point came directly from Fox News, which he noted a minute after Trump's post.