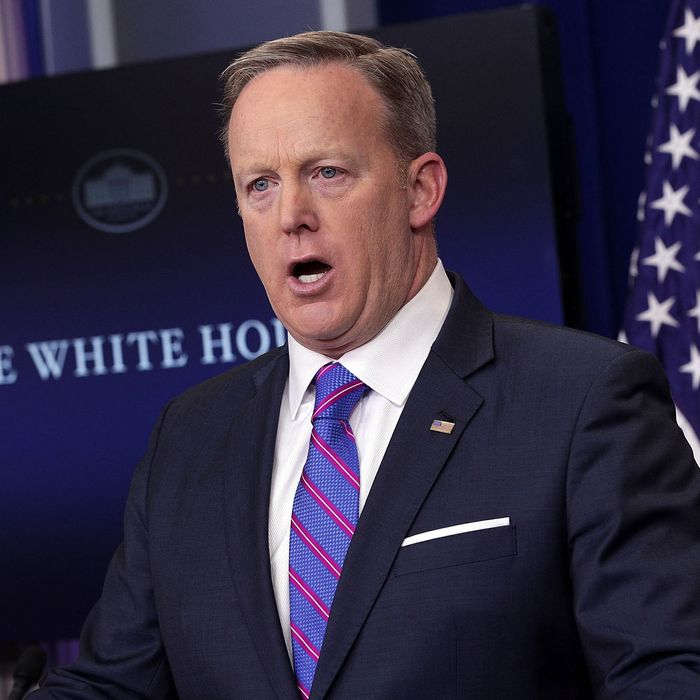 I came here to eat bubblegum and give unconvincing spin — and I'm all out of bubblegum.
Photo: Alex Wong/Getty Images
On December 29, the Obama administration announced new sanctions against Russia, as retaliation for its meddling in the 2016 election. That same day, incoming National Security Adviser Michael Flynn spoke over the phone with Russia's ambassador to the United States, Sergey Kislyak. During that call, Flynn discussed the new sanctions with his counterpart. Less than 24 hours later, Vladimir Putin decided not to hit the U.S. with retaliatory sanctions — a move that the president-elect cheered.
But Flynn was not forthright about his conversation with the ambassador, according to the Trump White House — even after that phone call became a subject of press scrutiny. The retired general led Vice-President Mike Pence to believe that the sanctions had not come up in his conversation with Kislyak. Pence then told CBS's Face the Nation that Flynn and Kislyak "did not discuss anything having to do with the United States' decision to expel diplomats or impose censure against Russia."
On January 26, acting attorney general Sally Yates told White House Counsel Donald McGahn that this wasn't true: The exchange had been intercepted by a routine wiretap of diplomats' calls, and the transcript showed that sanctions had been discussed.
A little over two weeks later, the Washington Post relayed that same information to the public. Hours after the Post's report went live, the president was asked about Flynn's apparent dissembling.
"I don't know about that," Trump said. "I haven't seen it. What report is that? I haven't seen that. I'll look into that."
But on Tuesday, Sean Spicer said that Trump did, in fact, know about that. While the president was unaware of the specific report in question, he had known about Flynn's apparent lie since January 26.
Trump had no objection to the substance of Flynn's action. "His job is to discuss issues with his counterparts," Spicer said. "That's what he's supposed to be doing."
But the president was disconcerted by Flynn's apparent dishonesty with Pence (Flynn, for his part, claims that he unintentionally omitted any mention of the sanctions from his summary of the call).
Trump was also uncertain whether Flynn's action was illegal, so he asked the White House counsel to investigate the matter. This was part of why Trump did not immediately fire Flynn, Spicer explained: He wanted to give the investigation time to confirm or contradict Yates's claim.
But also, the White House counsel "immediately" determined that Flynn's action was perfectly legal, as Trump had always suspected.
Anyhow, after 17 days of reflection, Trump asked for Flynn's resignation late Monday night — a decision-making process that Spicer described as "unbelievably decisive."
Per Spicer, the fact that Flynn resigned hours after the Washington Post reported Yates's warning to the White House counsel was a total coincidence. Rather, "the evolving and eroding level of trust as a result of this situation and a series of other questionable incidents" just happened to reach a breaking point Monday night.
Spicer's strange tale was undermined by more than its own contradictions. On Tuesday morning, Kellyanne Conway told NBC's Today Show that Flynn had chosen to resign because he "knew he had become a lightning rod." The night before, Conway had claimed that Trump had "full confidence" in Flynn.
It isn't entirely unusual for a White House to avoid admitting that the timing of a personnel decision was determined by negative media attention. At this point, the precise cause of Flynn's ouster remains uncertain. If Trump didn't object to the substance of Flynn's action — if talking to the Russian ambassador about the sanctions was no big deal — it's hard to see why Flynn's failure to divulge this (ostensibly insignificant) detail to Pence would constitute a fireable offense.
It seems more likely that Flynn's other liabilities — deep unpopularity with the intelligence community, domineering personality, failure to set up a well-functioning National Security Council, and apparent blabbing about a 3 a.m. phone call he received from Trump — all eroded the president's sense of loyalty to the retired general. So, when the Russia story raised the political costs of retaining Flynn, Trump had little interest in footing the bill.
Alternatively, Trump may have decided to oust Flynn right after learning Yates's news, but wished to line up a replacement before letting him go.
Those are just a couple plausible accounts of Flynn's ouster, which is two more than Spicer offered on Tuesday.