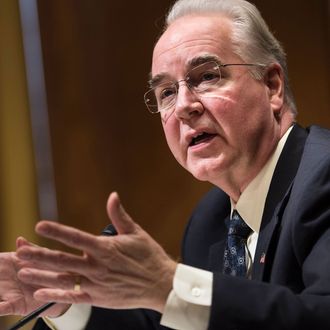 Tom Price, secretary of Health and Human Services.
Photo: Brendan Smialowski/AFP/Getty Images
Today, President Trump met with reporters and promised his administration would release its own health-care plan very soon: "So we're doing the health care — again moving along very well — sometime during the month of March, maybe mid-to-early March, we'll be submitting something that I think people will be very impressed by." Also today, Representative Tom Cole told John Harwood that Tom Price, Trump's secretary of Health and Human Services, told him "the administration wouldn't be sending us a bill," but instead "will cooperate and provide input into what we do."
In a normal organization — the kind where a leader can be left unaccompanied for a few hours without his subordinates fearing he will descend into a television-binge-fueled social-media meltdown — it could be assumed that the highest-ranking official's word would override that of his appointed department leader. Given that it's Trump, basically everybody would assume that Price is the one who knows what he's talking about and the president is making things up.