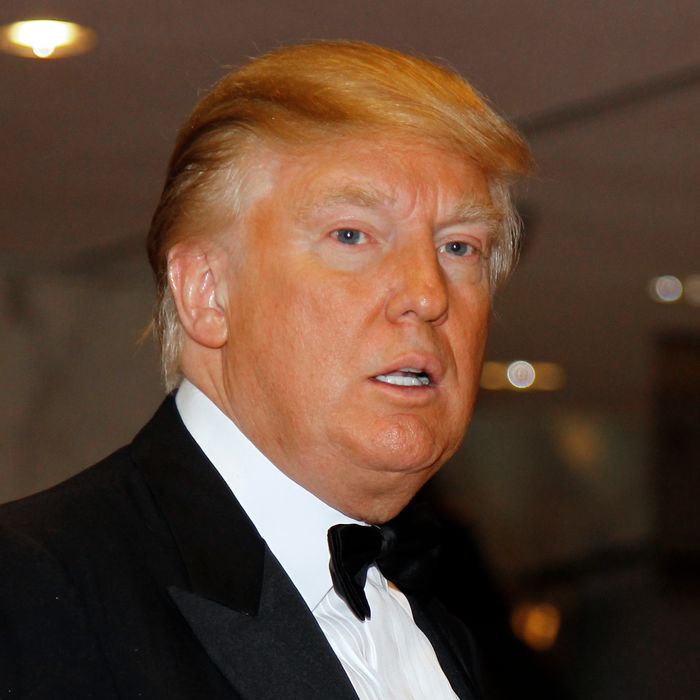 Trump at the 2011 White House Correspondents' Dinner.
Photo: Alex Brandon/AP
President Donald Trump tweeted on Saturday that he will not be attending this year's White House Correspondents' Dinner in April. "Please wish everyone well and have a great evening!" he added to the announcement. While it certainly breaks with tradition, Trump's decision not to break bread with the media is not a huge surprise considering how wholeheartedly he and the White House have embraced open combat with anyone who publishes journalism that is critical of him or his administration. On Friday, the White House barred four news organizations, the New York Times, CNN, Politico, and the Los Angeles Times, from attending the daily press briefing. Two other news organizations, the Associated Press and TIME, then boycotted the briefing as a result. In addition, several news organizations had also already decided to skip, or scale back their involvement in, this year's White House Correspondents' Dinner in protest of Trump's ever-escalating war on the media.
The White House Correspondents' Association has announced that they will still hold the event whether Trump attends or not. The event "has been and will continue to be a celebration of the First Amendment and the important role played by an independent news media in a healthy republic," WHCA president Jeff Mason told the Washington Post. "We look forward to shining a spotlight at the dinner on some of the best political journalism of the past year and recognizing the promising students who represent the next generation of our profession."
The somewhat-odd, increasingly celebrity-laden event is usually attended and headlined by the sitting president, as well as a comedian who is brought in to roast the president and press corps. Many had already surmised that it was unlikely that the typically thin-skinned Trump would elect to sit through such a experience this year.
The last president to skip the event was Ronald Reagan, who had to miss the dinner in 1981 after being shot during an attempted assassination. Reagan still delivered remarks to the event via phone.