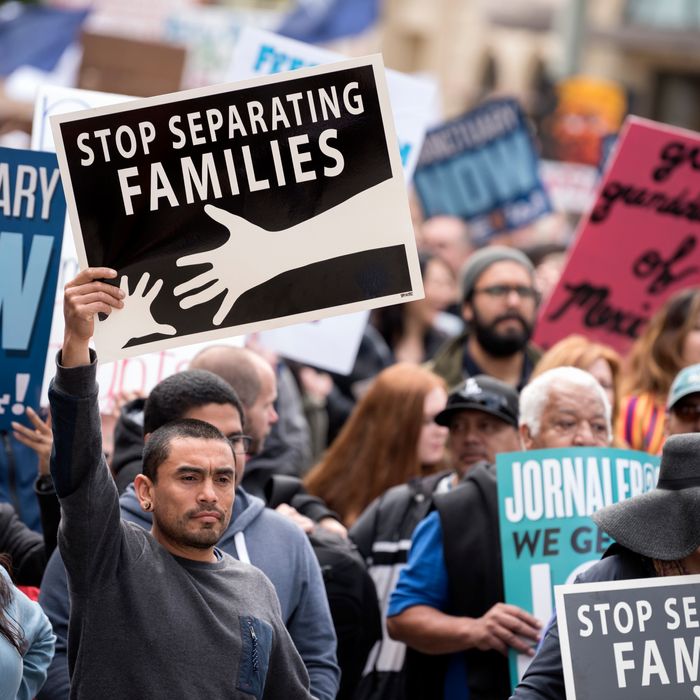 A rally in support of immigrant rights in Los Angeles on February 18, 2017.
Photo: Ronen Tivony/Sipa USA via AP
A 26-year-old Salvadoran woman being held by U.S. Immigration and Customs Enforcement collapsed at a detention center earlier this month after complaining of severe headaches. She was taken to Texas Health Huguley Hospital in Burleson, Texas, and diagnosed with a brain tumor.
On Wednesday afternoon, lawyers representing the woman, who was identified only as Sara, said she was expected to undergo surgery soon. Her attorneys and family members, who are in New Jersey, told the Daily Beast that they could not speak to her on the phone owing to ICE's limitations on communications with hospitalized detainees, though they feared she would die before their request to speak with her was processed. A local attorney who visited Sara on Tuesday over the objections of two guards said she wasn't allowed to speak with the hospital chaplain either.
Hours later, the Hill reported that Sara was discharged and taken to Prairieland Detention Center against her will. "She told us they tied her hands and ankles in her condition," said Melissa Zuniga, one of Sara's attorneys. "She's complaining of a lot of pain."
Sara's condition and the reasons for her transfer back to the detention center are unclear. (Zuniga said the hospital doesn't want the case "because they're getting hounded by calls and a potential lawsuit.") But stories like hers are adding to the fear that's gripped undocumented immigrants after the Trump administration revealed its plan to step up deportations.
While previous administrations focused on undocumented immigrants convicted of serious crimes, under the guidelines released this week, federal agents are to target anyone in the country illegally — with the exception of those granted protection from deportation under the Deferred Action for Childhood Arrivals program.
Even before the new rules were fleshed out, a nationwide surge in immigration raids put the undocumented on edge. The New York Times reports that, across the country, many have gone into hiding. Suddenly, there are more empty seats in classrooms, fewer day laborers are gathered on street corners looking for work, and restaurants that serve large undocumented populations have seen a sharp drop off in business. Per the Times:
It has kept Meli, 37, who arrived in Los Angeles from El Salvador more than 12 years ago, in a state of self-imposed house arrest, refusing to drive, fearing to leave her home, wondering how she will take her younger son, who is autistic, to doctor's appointments.

"I don't want to go to the store, to church — they are looking everywhere, and they know where to find us," said Meli, who asked that her last name not be used out of fear of getting caught. "They could be waiting for us anywhere. Any corner, any block."
According to federal rules, there should be places where undocumented immigrants are unlikely to be arrested. The Department of Homeland Security says the "sensitive locations" policy — which directs federal agents to avoid enforcement actions at places like "schools, places of worship, and hospitals" — is still in effect. The policy allows for exceptions in "exigent circumstances," and some worry that's being interpreted broadly. Last week, an alleged domestic violence victim was arrested at an El Paso, Texas, courthouse after she was granted a protective order, and two men in Fairfax County, Virginia, were arrested as they exited a church homeless shelter. A woman told officials at an elementary school in Centreville, Virginia, that her son's father was arrested after dropping him off at school.
Nevertheless, school districts across the country — including Chicago and Los Angeles — have tried to allay parents' fears by declaring they will not let ICE agents on campus without a warrant. There's also been a sharp increase in the number of religious communities offering shelter to undocumented immigrants. Reverend Noel Andersen, the national grassroots organizer for Church World Service, told The Tennessean that there were 400 congregations offering sanctuary before the election, and now there are more than 800 congregations in 45 states.
Some religiously affiliated groups are even organizing volunteers to quickly assemble to document and peacefully disrupt ICE raids. "The broader strategy is to shine a light on what ICE is doing," Peter Pedemonti, director of the New Sanctuary Movement of Philadelphia, told Mother Jones. "We want ICE to know that if they come into our neighborhoods and try to drag away our friends and neighbors, we are going to be there to slow it down and disrupt it."