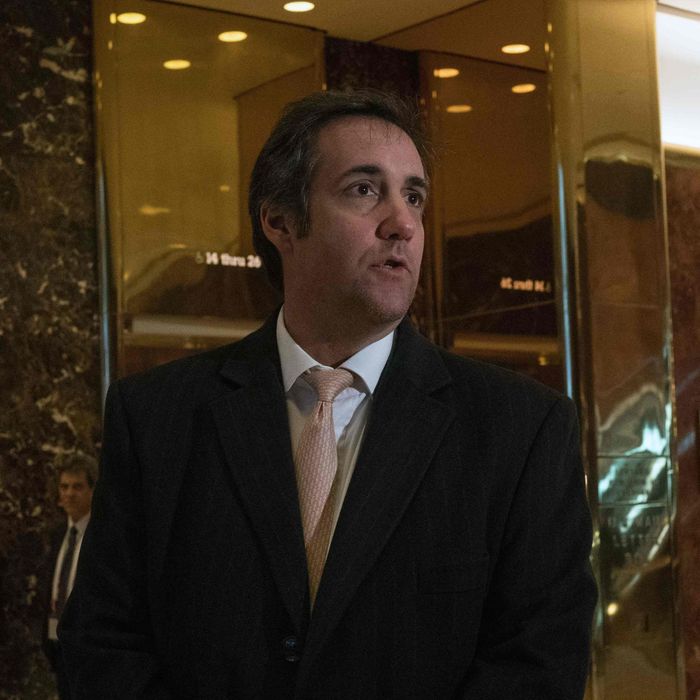 Michael Cohen at Trump Tower in December.
Photo: Bryan R. Smith/AFP/Getty Images
President Trump's personal lawyer, Michael D. Cohen, recently hand-delivered a sealed "peace plan" to the White House outlining a way to remove the U.S. sanctions on Russia, a plan that was conceived by a pro-Putin Ukrainian lawmaker connected to Cohen by a Trump business associate with links to the mafia. This is according to a new report published by the New York Times on Sunday. The plan was apparently delivered to the desk of former national security adviser Michael Flynn one week before he was forced to resign over having allegedly had, and lied about, a discussion about U.S. sanctions with Russian ambassador Sergey Kislyak.

It is not clear if the plan was ever opened after being delivered to the White House, or if the plan's proponents have discussed the plan with Trump or anyone else in the administration. The Times describes the group behind the plan as amateur diplomatic freelancers, and while this is obviously a lot more smoke in the already murky story regarding Team Trump's possible connections to Russia, the new report alleges no wrongdoing regarding the scheme.
The Times explains that the wealthy Ukrainian lawmaker who came up with the plan, Andrii V. Artemenko, "sees himself as a Trump-style leader of a future Ukraine" and claims to have corruption evidence that can bring down current Ukrainian president Petro O. Poroshenko (in order to replace him with someone who is less hostile to Russia and thus amenable to Artemenko's peace plan). Artemenko also claims that top Putin aides have encouraged his plans, but the Ukrainian government is already disavowing Artemenko's efforts; they say that he was not authorized to present any such plan to a foreign government.
Ukrainian political efforts to oppose Poroshenko were in part developed by former Trump campaign manager Paul Manafort, who left the campaign after his varied connections to Russia-aligned leaders in Ukraine were exposed back in August. Manafort and Artemenko have apparently never met. Poroshenko has been fighting a war against Russia-backed separatists in Eastern Ukraine since replacing his ousted pro-Russia predecessor, Viktor Yanukovych, in 2014. (And Manafort used to work for Yanukovych.)
The Times and Politico also report that Artemenko met with Trump campaign officials after he traveled to Cleveland for last summer's Republican National Convention. The Times adds that Artemenko says that "he saw in Mr. Trump an opportunity to advocate a plan for peace in Ukraine — and help advance his own political career."
The other players in the story are: Trump's special counsel, Cohen, a top Trump Organization lieutenant with business and familial ties to Ukraine who is currently under investigation by the FBI over his possible connections to the Kremlin; and Felix Sater, a Russian-American businessman with a decade of experience working with the Trump Organization who once pled guilty in a mafia-linked stock-manipulation scheme and became a government informant. Sater, who has also done time for stabbing a man in the face with the stem of a margarita glass, has said in the past that he and Trump were close. Trump has denied that.
A mutual friend apparently introduced Artemenko to Sater and they then involved Cohen. The three men allegedly worked on the deal at a Manhattan hotel in late January. Now, Artemenko is hoping the next national security adviser, whomever that is, will consider the plan after joining the Trump administration.
A controversial and unverified dossier assembled by a former British intelligence agent alleged that Cohen had discussed Russia's hacking of Democratic Party computer systems with a Russian official in Prague during Trump's campaign, but Cohen and the Russian official have both denied that allegation. Sater had apparently been working on a plan for a Trump Tower in Moscow that was halted on account of Trump's presidential campaign. Talking Points Memo's Josh Marshall, for what it's worth, thinks Sater's inclusion in the report is a very big deal, since Sater was at the center of the Trump Soho development project in Manhattan, which Marshall notes was the Trump project with the most Russia-linked shadiness.