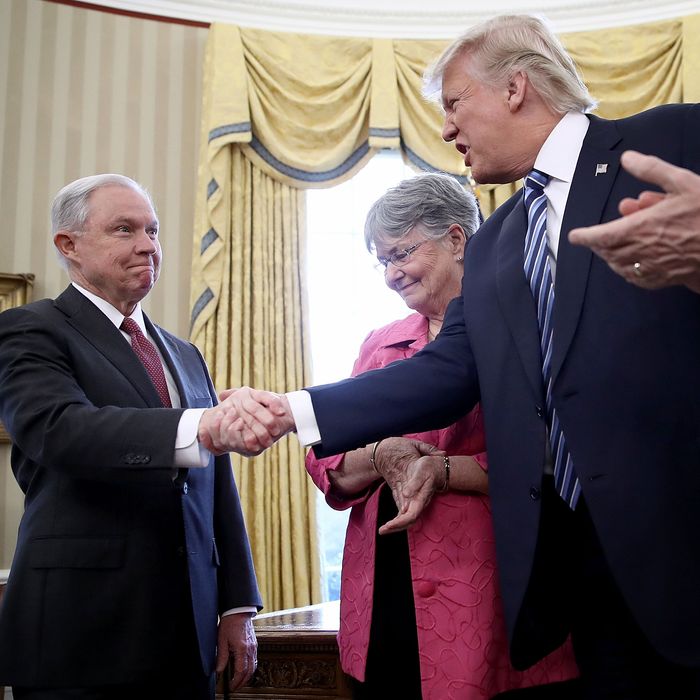 Sessions at his swearing-in for Attorney General.
Photo: Win McNamee/Getty Images
Most weeks, New York Magazine writer-at-large Frank Rich speaks with contributor Alex Carp about the biggest stories in politics and culture. Today: Trump's rollback of the rights of transgender students, a feckless Rex Tillerson, and the CPAC conference.

The Trump administration's rollback on the bathroom rules for transgender students this week was reportedly driven by Jeff Sessions, over the reservations of Betsy DeVos, with the final decision made in an Oval Office meeting. What do we learn by where Trump's support came down?
It's not news that America now has a president who will roll back civil rights and endorse bigotry. This is a White House, let us not forget, that refused to either remember or condemn anti-Semitism when purporting to honor Holocaust Remembrance Day. But nonetheless we did learn a little bit more about both Trump and his administration from this chilling decree.
We received confirmation (if there were any doubt) that Attorney General Sessions was lying when he made a big show of denying (or at least trying to cover up) his record as a foe of civil-rights enforcement during his Senate hearings. Discarding the rights of transgender students is clearly just a warm-up act for a Justice Department that will work hard to dismantle the rights of other minorities — including the voting rights of African-Americans and any others who might threaten GOP rule at the ballot box. So radical is Sessions that even a hard-right ideologue like DeVos can seem relatively moderate next to him — though only up to a point. Once the Sessions edict prevailed, she quickly fell in line behind it.
We also learned that all this talk of members of Trump's family serving as moderating forces on his worst impulses is hooey. Melania Trump had claimed that her cause as First Lady would be bullying. That was a lost cause before her husband took office — his entire career in business and politics has been a cavalcade of bullying — but now that he has institutionalized bullying as president, she's an accessory to the crime. (No wonder she entered a witness protection program shortly after the inauguration.) Jared Kushner and Ivanka Trump, who supposedly intervened to get Daddy to back down from his contemplated reversal of President Obama's anti-discrimination protections for LGBT Americans, either stayed silent or had no influence this time. Trump wasn't even loyal to poor Jackie Evancho, the 16-year-old singer who risked ridicule by performing at his Inaugural and has a transgender sister: Evancho was reduced to begging through Twitter for the president to meet with her this week. Equally impotent is Caitlyn Jenner, who pimped for Trump during the campaign, and who could be found yesterday on Twitter releasing a jocular, tone-deaf video reassuring transgender kids they have nothing to fear and inviting the president to call her to discuss his betrayal of his pre-election stand that transgender people should have the right to use whatever "bathroom they feel is appropriate." Her protest is too tame, too late, and too tainted by her previous Trump sycophancy to aid young transgender Americans who now may be more vulnerable than ever.
Just as Trump unveiled his new immigration decree — pledging to deport undocumented immigrants to Mexico, whether they are Mexican or not — Rex Tillerson began his first official visit there. Is there room for the secretary of State in the conflict over the border?
Sessions aside, it's not clear that any cabinet officer has much sway in an administration run by a tight non-cabinet inner circle, most notably Steve Bannon and Kushner. Tillerson's month at State has been one long humiliation. He has not been present at most of Trump's meetings with foreign leaders. He has not been available to the press. He has had no discernible effect on foreign policy (to the extent there is a final policy). His attempt to hire his own deputy, Elliot Abrams, ended in embarrassment when the White House blackballed Abrams on the grounds that he had been critical of Trump during the campaign.
Tillerson's visit to Mexico this week, accompanied by Homeland Security Secretary John Kelly, was nothing if not a public confirmation of his irrelevance. Even as he was saying all the appropriate things about the friendship between the United States and Mexico, his boss was back in Washington slurring Mexico once again as a conveyor belt for criminals, toying with the notion of cutting back American aid to Mexico to pay for the wall, and readying a new anti-immigrant edict that would be as toxic to Mexicans as to Muslims. Poor Kelly had to step to a microphone to specifically contradict Trump, promising that there would be "no mass deportations" of illegal immigrants and no "use of military force" against them — both of which the president had been touting. We'll see how long this stab at independence lasts. Tillerson and Kelly — and quite possibly the widely admired new national security adviser H.R. McMaster — will soon have to put their balls into the same escrow account as Betsy DeVos's spine.
Steve Bannon and Reince Priebus took the stage at this week's CPAC conference, marking a rare public appearance for Bannon and offering the first direct glimpse of their working dynamic. What did you see?
This dog-and-pony show was meant to show that these two rivals for White House turf were pacific colleagues, and that therefore all press reports saying otherwise are fake news. The rare glimpse of Bannon in action revealed two things about him: (1) He could roll over the milquetoast clerk Priebus anytime he wanted to; (2) He looks so unhealthy he may not be around long enough to be on hand for that showdown.
The fawning questioner at this Bannon-Priebus propaganda event made no mention of Bannon's role in making a star out of Milo Yiannopoulos, the transgressive provocateur who until his resignation this week was a senior editor at Bannon's Breitbart News. Yiannopoulos had also been on the bill at the CPAC conference until the world suddenly rediscovered a taped appearance in which he spoke with genuine feeling about the virtues of pedophilia for underage boys. Presumably Bannon knew of his senior editor's thoughts on that topic — that incriminating public video dated back to early 2016. So far Bannon's own position on pedophilia remains unknown.