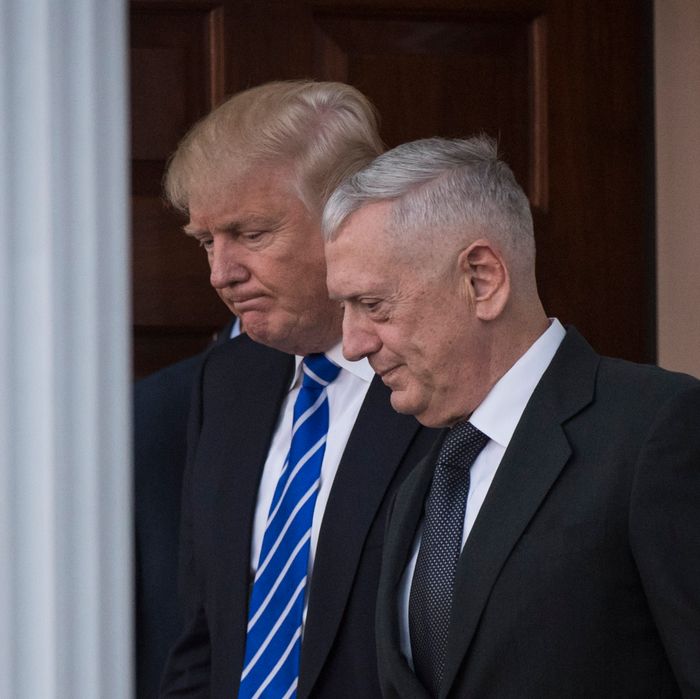 President Trump and Defense Secretary James Mattis.
Photo: The Washington Post/The Washington Post/Getty Images
President Trump's nominee for Navy secretary, Philip Bilden, has withdrawn from consideration because he is unable to resolve potential conflicts of interest from his financial investments.
"After an extensive review process," Bilden said, "I have determined that I will not be able to satisfy the Office of Government Ethics requirements without undue disruption and materially adverse divestment of my family's private financial interests."
In a separate statement, Defense Secretary Jim Mattis added, "This was a personal decision driven by privacy concerns and significant challenges he faced in separating himself from his business interests." Mattis said he would recommend a new candidate to the White House "in the coming days."
Bilden served as an intelligence officer in the Army Reserve from 1986 to 1996, then moved to Hong Kong to launch an Asian presence for HarbourVest Partners LLC, which the White House described as "a global private equity investment management firm with institutional assets under management currently in excess of $42 billion." Bilden had recently retired from the company.
Last week, Major Garrett of CBS News reported that Bilden was likely to withdraw, but the Pentagon issued a statement from Mattis saying Bilden had assured him he was committed to serving if confirmed. White House Press Secretary Sean Spicer also shot down the story on Twitter:
Bilden is the second of Trump's nominees for service secretary to step down owing to business conflicts. Earlier this month, billionaire investment banker Vincent Viola withdrew as Army secretary. His team explained that "the challenges of separating Mr. Viola from the organizations that he has built over the last thirty-five years have proven insurmountable."
Earlier this month, Trump's pick to replace National Security Adviser Michael Flynn, retired Vice-Admiral Robert Harward, and his nominee for Labor Secretary, Andrew Puzder, also withdrew their names from consideration.