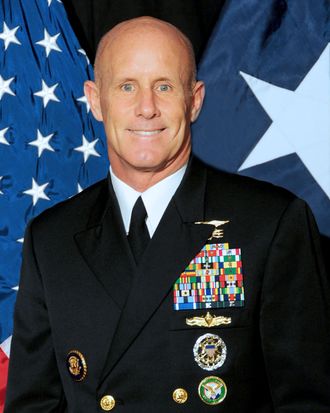 Robert Harward.
Photo: US Navy
In an unusual move for President Trump, his pick to replace ousted national security adviser Michael Flynn wasn't alarming. Retired Vice-Admiral Robert Harward is a former Navy SEAL who previously served as Defense Secretary James Mattis's deputy when he led U.S. Central Command. Under another administration, people might care that Harward is currently a senior executive at the defense contractor Lockheed Martin, but he'd be replacing an official who espoused a number of Islamophobic beliefs and had possibly illegal chats with the Russian ambassador. Under Flynn, the National Security Council was reportedly understaffed and dysfunctional, but it looked like Harward might bring some stability.
However, it seems Harward is also too stable to want any part of the Trump team. The administration had been wooing Harward even before Flynn resigned, but following two meetings at the White House, he announced on Thursday evening that he'd turned down the offer.
"Since retiring, I have the opportunity to address financial and family issues that would have been challenging in this position," Harward said in a statement. "Like all service members understand, and live, this job requires 24 hours a day, seven days a week focus and commitment to do it right. I currently could not make that commitment. My thoughts and prayers are with those that carry such heavy burdens and responsibility for taking care of our country's national security concerns. God bless this great country of ours."
Sources told the Washington Post that in addition to family and financial concerns, Harward was put off because the White House wouldn't guarantee that he could select his own staff.

A person familiar with Harward's thinking told Politico that he was concerned by the "unwillingness of White House political team to be deferential to the White House national security team" and "unwillingness of [the] White House political team to be malleable."
One of Harward's friend had a more colorful way of putting it: