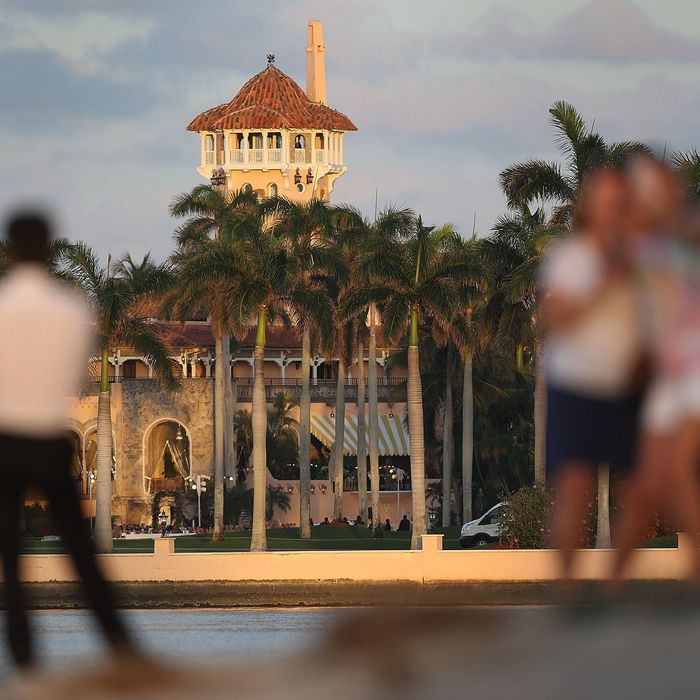 The member's-only Winter White House.
Photo: Joe Raedle/Getty Images
The managing director of President Donald Trump's Mar-a-Lago club in Florida says that Trump's presidency "enhances" membership at the private Palm Beach club, and that "people are now even more interested" in joining as a result. The New York Times reports that the manager, Bernd Lembcke, also claimed that the club is "very careful in vetting" potential new members, who still need to be introduced by a current member to be considered. Mar-a-Lago — where the annual membership fee was recently doubled to $200,000 following Trump's election — is now the president's "Winter White House," and so far Trump seems intent on heading there every weekend (at significant taxpayer expense). The club has subsequently become a place where the rich and powerful can pay the president's private company to have private access to the president, his family, and his advisors — though the White House denies that's what happening.
The Times has also obtained lists of the club's members, which unsurprisingly include many wealthy power players from the worlds of real estate, finance, and the energy industry, as well as people like New England Patriots head coach Bill Belichick. Having some sense of who might be at the club is probably a good idea, since Trump decided to conduct an impromptu meeting about a North Korean missile launch with the prime minister of Japan last weekend in full view of club members and their dinner guests — a bizarre scenario, which drew the ire of many national-security experts.
Even following the Times report, it's still not clear how extreme the vetting of Mar-a-Lago members and their guests is — if there is any vetting beyond Secret Service checks — in relation to these people's extraordinary level of access to the president. Though most of the club's more than 500 members joined before Trump began his presidential campaign, that doesn't mean that they don't stand to benefit from their proximity to the new president. And while most American presidents have regularly hobnobbed with the rich and powerful, often in private, Trump is the first one that gets paid for the privilege, since he has refused to divest himself from his family business while running the country.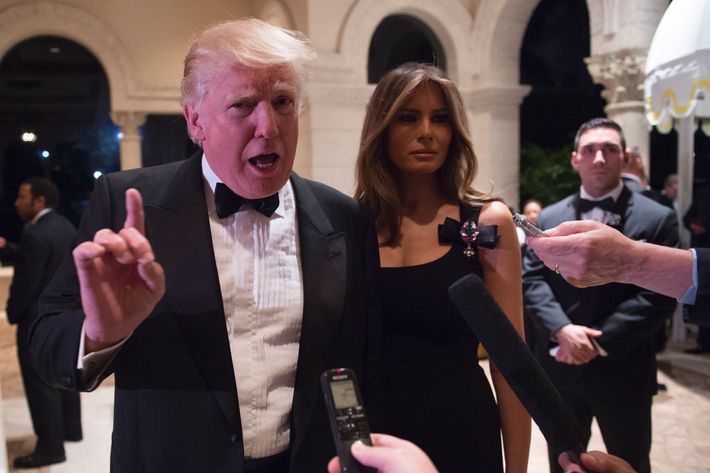 Trump spokesperson Hope Hicks insists that Trump "has not and will not be discussing policy with club members," but some members report that Trump has been doing exactly that. Real-estate developer Bruce Toll of Toll Brothers told the Times that Trump has indeed been talking shop with guests and soliciting their advice, and developer Richard LeFrak said that Trump casually asked him last weekend if he would consider taking the job of building the border wall Trump has promised to erect along the southern U.S. border. (LeFrak is apparently not interested.)
Hicks also boasted that Mar-a-Lago was "one of the most successful private clubs in the world" and added that "the president looks forward to hosting many world leaders at this remarkable property." The president's son Eric, meanwhile, said that concerns about the Trump family profiting from presidential access were inappropriate since the club admits no more than 40 new members a year, and because wealthy executives already have plenty of other ways to engage with the federal government. The younger Trump also complained that the notion of pay-to-play access "assumes the worst of us and everyone, and that is unfair." It seems that members additionally insisted that they were not initiating conversations about any business matters with Trump or his staff, but it sounds as though Trump is more than willing to bring up matters of government himself. Since the press is not allowed into the club under most circumstances, so far the only non-official reports of Trump's activities inside Mar-a-Lago have been via leaks or members' social-media accounts.
Looking further north, Politico passes along a leaked audio recording of an event Trump hosted at his private golf club in New Jersey less than two weeks after the election. On the November 18 recording, the then president-elect tells a gathering of Trump National Golf Club members that he consulted some of them on who should serve in his cabinet just after the election. Speaking of his ongoing meetings with possible cabinet nominees, Trump also told the crowd:
We're doing a lot of interviews tomorrow — generals, dictators, we have everything … You may wanna come around. It'll be fun. We're really working tomorrow. We have meetings every 15, 20 minutes with different people that will form our government … We have everybody coming in — if you want to come around, it's going to be unbelievable … so you might want to come along.
Trump also told the assembled audience in New Jersey that they were "the special people" and were "my real group," since the attendees had been members of the club for such a long time.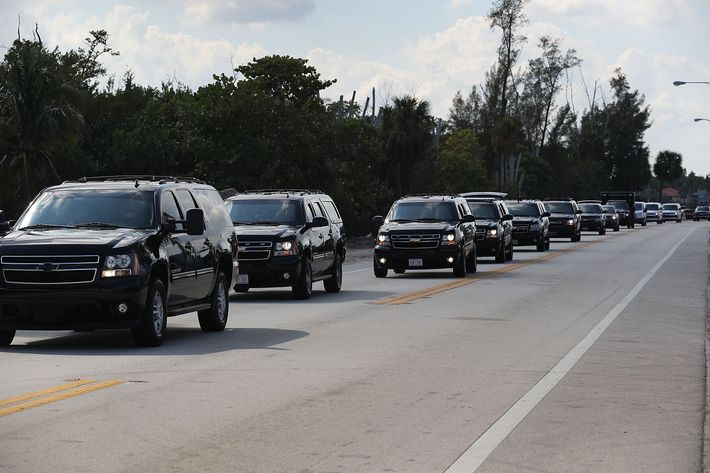 One group of people who may be feeling decidedly less special following Trump's ascension to the White House, however, are Palm Beach residents who aren't members of Mar-a-Lago. NPR reports that President Trump's regular trips to the coastal Florida enclave have shut down the the county airport for five consecutive weekends, and businesses dependent on the airport say they may end up losing millions of dollars in revenue this year as a result. Sales are also down in the town's shopping district, as the road through it gets periodically shut down by the Secret Service, and Palm Beach County police have racked up $1.5 million in overtime costs on account of Trump's visits. Some residents are also trying to block the newly approved plan to build a large helipad for the president at Mar-a-Lago, as they are worried the frequent comings and goings of the president's massive Marine helicopters will not enhance the enjoyment of their homes.