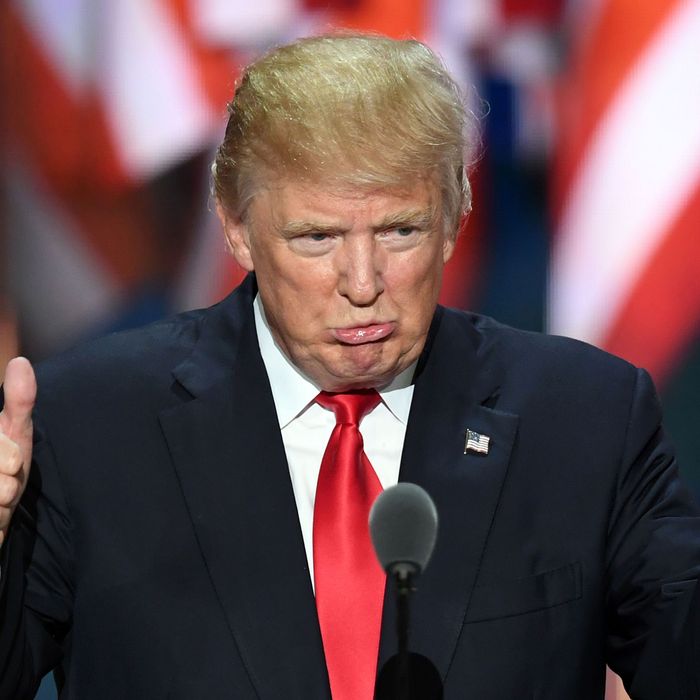 The best thumbs.
Photo: Jim Watson/AFP/Getty Images
Of all the things Republicans loved about Donald Trump in the lead-up to the 2016 election, from the brightly colored hats to the promotion of sexual assault, nothing proved quite as lucrative for the then-candidate as his thumbs. That's according to a new report from the RNC outlining experiments on his campaign websites that started last summer and ended on Election Day.
The big takeaway was the revelation that people would give more money to the Trump campaign if they were greeted with a picture of him flashing two thumbs-up. When Trump was shown raising his two baby-carrot-size digits to the sky, GOP donors donated more than if they saw pictures of him shaking the hand of a supporter, buttoning his suit jacket, or carrying a "Make America Great Again" hat. Regardless of how it was used, the image of Trump giving two thumbs up in front of an American flag was the "most effective" choice for his website, the report says.
Other findings include that money flowed more freely when visitors to Trump's website were told it was the "Official website of Donald J. Trump." They also donated more when they were greeted with green donate buttons and when two greater-than symbols (">>") were used after the word "contribute" on a donate button. Still, nothing proved as consistently motivating for those who were willing to open their wallets than Trump's thumbs, which also inspired this must-hear hype song.