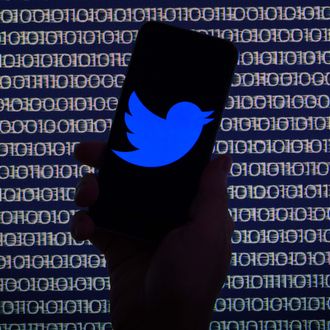 Photo: Jaap Arriens/NurPhoto via Getty Images
After years of taking flack for failing to stem the tide of rampant harassment on the platform, Twitter has revealed new steps toward making the platforms less … well, less Nazi. The three main areas, the company revealed in a blog post, are preventing abusive users from creating new accounts, hiding abusive tweets, and putting out safer search results.
On account creation, Twitter says, "We're taking steps to identify people who have been permanently suspended and stop them from creating new accounts." Exactly what methods it's employing are unspecified, which makes sense considering that making the methods known would make them easier to skirt around.
Tweets that Twitter describes as "abusive or low-quality" will be collapsed below tweets, hidden from view unless users opt in. That mostly means that tweets from accounts that are relatively new, or have few followers, won't be weighted as much as tweets from users in better standing. In other words, expect fewer eggs.
Lastly, the company is working on a "safe search" feature that prevents sensitive content, and blocked or muted accounts, from appearing in users' search results. Getting rid of blocked accounts in search results is a long-overdue feature.
All of this comes a few months after the service rolled out keyword-mute filters that users can customize to their liking. Whether any of this will work remains to be seen, but it's a start.