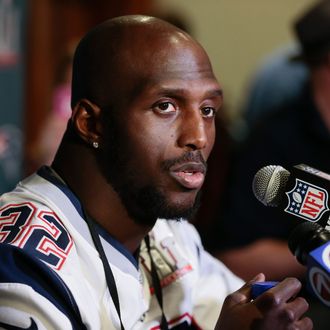 Devin McCourty.
Photo: Bob Levey/Getty Images
As is tradition, President Donald Trump will honor the Super Bowl LI champions, the New England Patriots, at the White House. Trump's friendships with the team's "total winners" — owner Robert Kraft, coach Bill Belichick, and quarterback Tom Brady — inserted more than a few political undertones into America's game this year. That still stands post-victory, now that at least two New England players have said publicly they will skip any presidential visit.
After the Patriots' stunning 34-28 comeback victory, tight end Martellus Bennett told reporters that he would not go to the White House. "People know how I feel about it," Bennett said, "Just follow me on Twitter." Bennett added that he wasn't "worried at all" about what team owner Kraft would think of his absence.
On Monday, another Patriots player, defensive end Devin McCourty said he would turn down a future meeting with Trump. "I'm not going to the White House," McCourty texted to Time. "Basic reason for me is I don't feel accepted in the White House. With the president having so many strong opinions and prejudices I believe certain people might feel accepted there while others won't."
These two players aren't close to being the only players to sit out the glorified photo op, and plenty did so during the Obama era. Some protested the president's politics, while others just used the excuse of "family commitments."