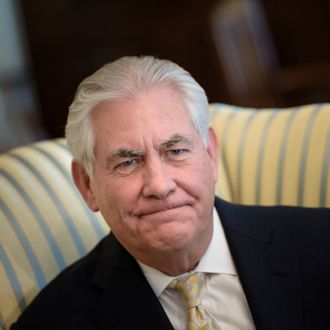 Secretary of State Rex Tillerson.
Photo: Brendan Smialowksi/AFP/Getty Images
Secretary of State Rex Tillerson and Department of Homeland Security head John Kelly sat down Wednesday with Mexico's foreign minister Luis Videgaray in Washington, D.C. The meeting came about two weeks after Mexican president Enrique Peña Nieto canceled his own White House visit after tensions escalated between the two when President Donald Trump signed an executive order for the construction of the border-wall and insisted, again, that Mexico pick up the billion-dollar tab. The two presidents later spoke over the phone, but it apparently got a bit weird.
According to a State Department spokesperson, Tillerson and Videgaray had a "constructive conversation on a range of U.S.-Mexico collaboration including law enforcement, migration, and security. " The Mexican Foreign ministry says more or less the same, adding that they discussed the treatment and due-process protections for Mexican migrants in the United States.
Tillerson will repay the favor in a few weeks, and head down to Mexico City — though the exact date of his visit has not been set. Videgaray, when asked if Nieto would be meet with Trump in person any time soon, he replied succinctly: "Not for now."
But Nieto may still end up booking a trip to Washington. Members of the Congressional Hispanic Caucus have requested House and Senate leaders invite Nieto to speak at a joint session of Congress. "Recent statements and actions by the Trump Administration have damaged our nations' ties," the letter's signatories wrote. "It is absolutely critical that Congress reiterate the United States' commitment to our important ally Mexico." The letter does ask that Congress consult with Trump before extending a formal invite — likely to avoid another Boehner-Netanyahu debacle — but say lawmakers would "benefit from engaging directly" with the Mexican president.