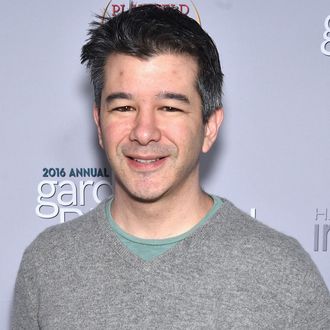 Kalanick.
Photo: Dimitrios Kambouris/Getty Images
Travis Kalanick has resigned from his position on Donald Trump's business advisory board, Recode's Kara Swisher reports. In an internal email sent to Uber staff earlier today, Kalanick wrote, "Joining the group was not meant to be an endorsement of the president or his agenda but unfortunately it has been misinterpreted to be exactly that."
Uber faced a backlash last weekend after users interpreted the company's operation in the vicinity of immigration protests at JFK airport as akin to scabbing. That interpretation of events led to a concentrated #deleteUber campaign which saw users closing their accounts in record numbers and switching to rideshare competitors. Kalanick's ties to the Trump administration only served to further motivate users to delete their accounts.
Kalanick rejected the implicit assumption that his role on the advisory board constituted an ideological agreement with the Trump administration. "The executive order is hurting many people," he wrote, later adding that "Immigration and openness are an important part of our country's success and quite honestly to Uber's." The company committed millions last weekend to compensating drivers stuck overseas.