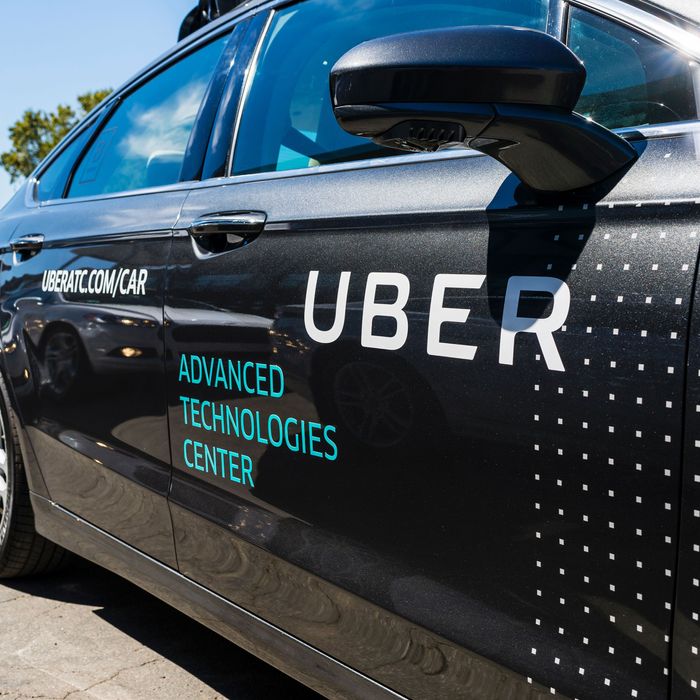 Uber has recently come under fire.
Photo: AFP/AFP/Getty Images
Just when Uber thought it might escape February without another negative story, two more dropped on Monday. A week after ex-engineer Susan Fowler published a lengthy tell-all chock full of damning details about the gender discrimination she says she experienced during her year at the company, and Google-owned Waymo (a self-driving-car company) announced it is suing Uber over a laser-scanning detection system Waymo claims Uber stole, Uber's SVP of engineering, Amit Singhal, resigned following the resurfacing of sexual-harassment allegations against him, Recode reports. And The Verge discovered that Uber's self-driving-car-permit fiasco in California could likely have been avoided if the company had only agreed to work with the DMV, which reportedly tried to figure things out with the company months before the problems began.
Singhal's departure comes after it was discovered that the SVP didn't disclose the sexual-harassment allegations levied against him by a female employee while he was working at Google. Prior to joining Uber, Singhal spent several years working for Google until he left in February 2016. Recode reports that Singhal denied the allegations against him at Google, and said he was leaving to make an "important life change." Singhal, Recode reports, didn't disclose any of this to Uber when he came on board, prompting Uber CEO Travis Kalanick to ask for his resignation today. It's a move that was likely influenced by Fowler's recent allegations which also prompted Kalanick to host an hour-long meeting with 100 female employees, who told him harassment and sexism at the company is a "systemic problem." Without the elevated scrutiny currently being placed on Uber following Fowler's allegations, it's possible Singhal wouldn't have been forced to resign. (Since Fowler's post, another female ex-Uber employee has come forward anonymously with her own set of allegations of sexism and harassment she claims to have experienced at Uber.)
Meanwhile, in the world of autonomous cars, Uber seems to have tangled itself up with the California DMV following the launch of its self-driving-car program in December 2016. The program would only have a short-lived run on the streets of San Francisco before Uber was forced — following a disagreement over autonomous-vehicle permits with the DMV — to move the cars to Arizona. According to emails between the DMV and Anthony Levandowski, VP of Uber's Advanced Technologies Group, Uber insisted that its cars were not true autonomous vehicles. When what was believed to be an Uber self-driving car was spotted in San Francisco in September, the DMV reached out to Uber about getting permits for the cars that would allow the company to continue testing its automated technology. Levandowski, in a series of decreasingly friendly emails, insisted the car from September was under manual control.
"We are not an [autonomous vehicle] and getting a permit further reinforces the misperception that we are an AV," he wrote in one of the emails obtained by The Verge. Worth noting, California law defines an autonomous vehicle as one that has the capability to operate autonomously. Even if a driver had been manually steering Uber's car, the fact that it has autonomous capability — even a dormant capability — means the state classifies it as an AV requiring a permit. The DMV disagreed with Levandowski, and wanted the company to register the cars for AV-testing permits. The permits would also require Uber to submit a report to the DMV every time a driver in one of its cars had to take the wheel, shift out of self-driving mode, and manually drive the car. Something Uber, in the competitive landscape of self-driving technology, might not have wanted its competitors to know.