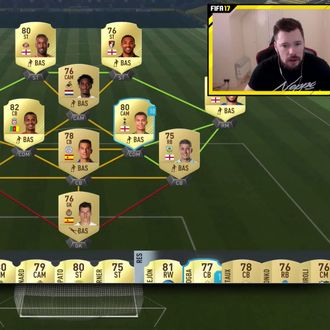 Two men in the U.K. have pleaded guilty to running a video-game gambling site based on the popular FIFA series by using that game's virtual currency system to place real bets. One of the men, according to the BBC, is Craig Douglas, a popular FIFA streamer known as NepentheZ, who has more than 1.3 million subscribers.
Douglas and his partner Dylan Rigby ran the website FUT Galaxy, which let players use the game's virtual currency to bet on matches. The issue is that the currency has a correlating real-world value, making the site functionally equivalent to a gambling site that uses real money. The pair initially pleaded not guilty to charges relating to unlicensed gambling in September, but has since changed their plea.
Video-game gambling has become something of a sleeping giant in the online economy, one that's estimated to be worth billions of dollars. Last summer, fans of the game Counter-Strike revealed that several gambling sites surrounding the game, which used virtual weapons with corresponding real-world monetary value as collateral, were owned by, or had sponsorship deals with, prominent streamers. Valve, the developer behind the game, sent cease-and-desists to more than 20 of those sites. They did not, however, face legal action from gambling authorities.