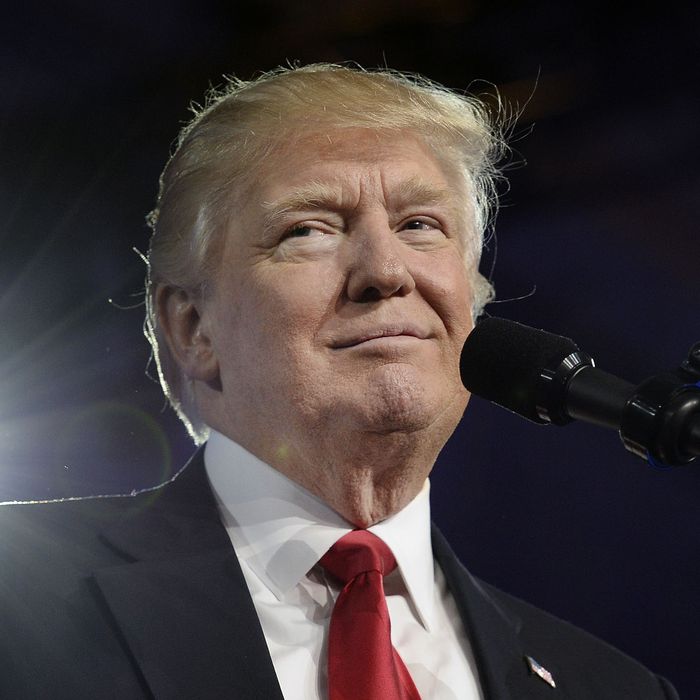 While President Trump has "accomplished more in just a few weeks than many presidents do in an entire administration," according to senior adviser Stephen Miller, somehow he still has historically low approval ratings. And while Trump says his White House is running like a fine-tuned machine, members of Congress are still unclear on his policy objectives for everything from tax reform to infrastructure. Uncertainty over his plans for Obamacare repeal in particular has left Republican lawmakers exposed and uneasy.
On Tuesday night, President Trump will attempt to address these issues and refocus his administration in his first address to a joint session of Congress. The official theme of the speech is "renewal of the American spirit." Technically it isn't a state of the union address, but it will look exactly the same — though presumably Trump will put his own twist on his first prime-time speech as president. Here's a rundown of what we know about the address.
It's scheduled from 9 p.m. to 10:30 p.m., Eastern time. The speech will be broadcast on every major TV network and all the cable news channels. For those who don't have access to a TV, it will also be livestreamed by multiple media outlets. You can watch YouTube's broadcast here, and the PBS NewsHour/Twitter stream here.
On Monday the White House gave media outlets — including the conspiracy-theory website Infowars — a preview of the speech consisting of 11 bullet points (the president's preferred style). Most of the points are vague. It says Trump will explain how he's keeping his promises to the American people, "call on Congress to act," and "look to the future and talk about what we can achieve if we come together." But it also lists elements of the "bold agenda" Trump intends to work with Congress to achieve. These include:
• Tax and regulatory reform to get relief to hardworking Americans and American businesses.
• Making the workplace better for working parents.
• Saving American families from the disaster of Obamacare.
• Making sure every child in America has access to a good education.
• A great rebuilding of the American military.
• Fulfilling our commitments to our veterans and making sure they have access to the care they need.
The Trump administration hasn't offered many details, but the president is expected to make his case for a $54 billion increase in military spending and a corresponding cut to domestic and foreign-aid programs, including big cuts to the EPA, the IRS, the State Department, and social safety-net programs (but not Social Security or Medicare).
Trump said on Sunday that he would lay out specifics on how he wants to replace Obamacare, a surprisingly complicated topic that he appeared to be rethinking as recently as Friday.
Despite a recent report that Trump's infrastructure plan would be put off to 2018, on Monday the president told governors visiting the White House that he'd lay out his plans in Tuesday's address. "We're going to make it easier for states to address their infrastructure, and I'm going to have a big statement tomorrow night on infrastructure," Trump said. "We're going to start spending on infrastructure big."

While the speech will be written by Stephen Miller, who crafted Trump's dystopian inaugural address, the White House said the tone will be optimistic. Though, as NPR notes, "Previews from Trump aides have not always panned out. For instance, we were told his inaugural address would focus on unity. It didn't."
The White House released a list of six people who will be seated with the First Lady during the speech. Guests include a school-voucher success story, Supreme Court Justice Antonin Scalia's widow, and three people whose family members were killed by an undocumented immigrant.
Four Democratic lawmakers plan to bring undocumented immigrants who were given permission to live and work in the U.S. under President Obama's Deferred Action for Childhood Arrivals program. Senator Dick Durbin's guest will be Aaima Sayed, who left Pakistan as a toddler and is now a third-year medical student at Loyola University. "I hope her presence reminds President Trump what's at stake in the debate over DACA: the lives of more than 750,000 innocent young people and the wellbeing of entire communities," the senator said.
Representative Luis Gutierrez hopes to highlight the effects of Trump's immigration ban by bringing a Chicago immigration attorney who is the daughter of refugees from Gaza."If he looks up during the speech," Gutierrez said, "I want Trump to see the face of a woman, the face of a Muslim, and the face of someone whose family has enriched and contributed to this country despite starting out as refugees."
What happens after the speech?
The Democrats went with a risky choice for their rebuttal: former Kentucky governor Steve Beshear. The 72-year-old has been out of office for more than a year, but he presided over one of the Affordable Care Act's biggest success stories — and in a deeply conservative state. The selection of Beshear is a sign that Democrats intend to stay focused on health care on Tuesday, no matter what drama unfolds around Trump.