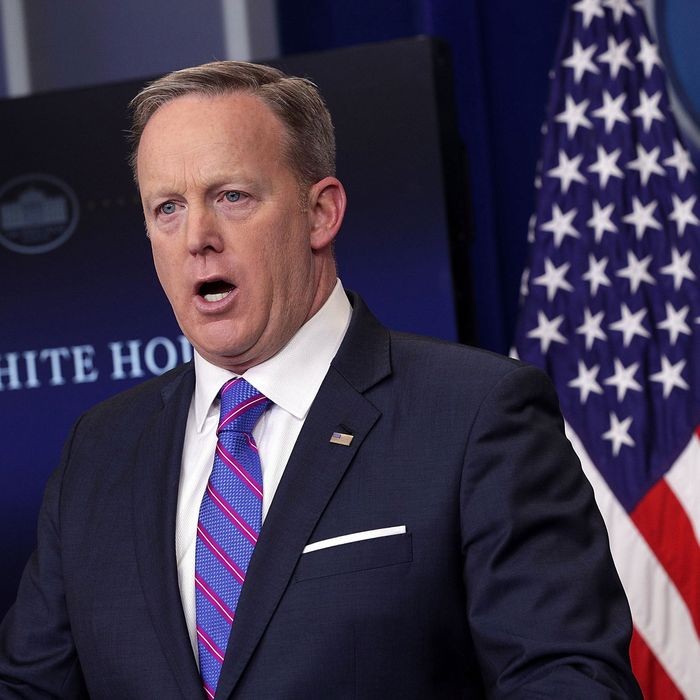 "I'm here to eat gum and suppress dissent. And I'm all out of gum."
Photo: Alex Wong/Getty Images
Last week, President Trump declared that the "fake news media" — a collective made up of several leading American news outlets — was "the enemy of the American people."
On Friday, Trump reiterated this claim, and then accused the mainstream press of outright fabricating stories and sources.
Still, the president emphasized that he has no problem with the real media.
"I'm not against the media. I'm not against the press," Trump said. "I am only against the fake news media or press."
He then lambasted the "fake news" media for failing to appreciate this nuance.
"Fake," the president said. "Fake. They have to leave that word."
On Friday afternoon, the White House appeared to put the president's distinction into practice: When reporters from the New York Times, the Los Angeles Times, Politico, and CNN showed for a scheduled, off-camera briefing from Sean Spicer, they were denied entry to the White House press secretary's office.
Breitbart News, the Washington Times, and One America News Network were waved in. Spicer also welcomed some mainstream outlets, including erstwhile "enemies of the people" ABC and CBS. Reporters from Time magazine and the Associated Press were allowed in, but chose to boycott the briefing in protest of the other outlets' exclusion.
"Nothing like this has ever happened at the White House in our long history of covering multiple administrations of different parties," Dean Baquet, the executive editor of the New York Times, said in a statement. "We strongly protest the exclusion of The New York Times and the other news organizations. Free media access to a transparent government is obviously of crucial national interest."

Bloomberg's Jennifer Jacobs relayed the White House's official reasoning for the exclusions: