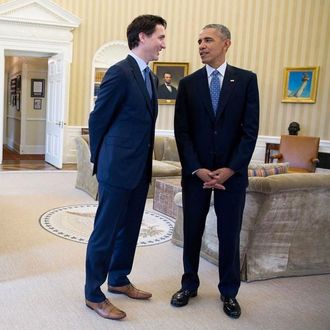 Canadian prime minister Justin Trudeau meeting with President Barack Obama in the Oval Office.
Photo: petesouza/Instagram
As chief official White House photographer, Pete Souza spent nearly a decade behind the camera documenting Barack Obama's presidency. On Inauguration Day 2017, Souza wiped his old Instagram account clean and launched a new one for his new life beyond 1600 Pennsylvania Avenue. (Though not before sharing a few final, poignant shots of the Obamas saying goodbye.)
While he may have left the political world — Souza's Instagram bio describes his current role as 'TBD" — Souza isn't quietly slipping back into everyday life. Instead, he's using his new Instagram to repost old photos from the Obama years; photos that, for some reason, suddenly feel ultrarelevant, and might just make you pine for 2008. (Think shots of Obama meeting with the same world leaders President Trump has been meeting with in recent days and weeks.) Not to mention, Souza's got a real knack for subtlety. His captions manage to say very little while packing a heck of a punch.
On Trump's administration reportedly struggling to find the Cabinet Room light switches.
On the number of women in the Trump administration.
On Prime Minister Abe's visit to the White House.
On Prime Minister Trudeau's visit to the White House.
On Trump discussing national-security concerns publicly while at Mar-a-Lago.
While that's all from Shade Master Souza's Instagram for now, it seems likely they'll be plenty more where those came from. He did spend eight years with the Obamas after all, and Trump's term has only just begun.