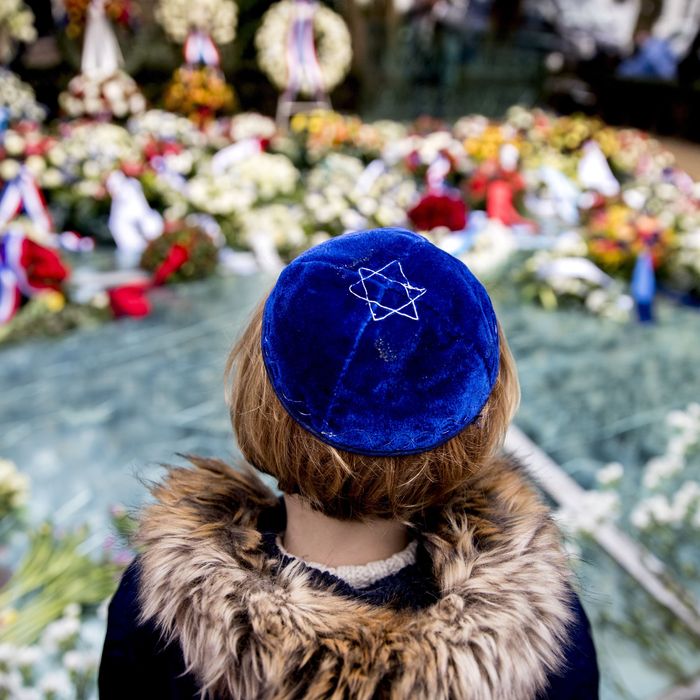 A child looks at the Auschwitz monument in the Wertheimpark in Amsterdam on January 29, 2017.
Photo: JERRY LAMPEN/AFP/Getty Images
State Department staffers have had a number of disagreements with President Trump — including signing a memo opposing the travel ban, trying to prioritize approved visas from the affected countries, and attempting to assure Australia that a refugee resettlement deal is still on, despite what Trump suggested in a tweet.
Now sources claim that the State Department offered the new administration an International Holocaust Remembrance Day statement that wouldn't have sparked an angry backlash and accusations of Holocaust denial, but the White House opted not to use it.
While the White House statement only mentioned that "innocent people" were subject to "Nazi terror," Politico reports that the State Department's Office of the Special Envoy for Holocaust Issues prepared a message that mentioned Jewish victims, as it had done in the past. Sources say State Department officials thought the statement was being drafted for use by the White House.
An unnamed White House official said they didn't see the State Department draft until after they had issued their own statement, and then told State not to release its version because it came in after 7 p.m. The official denied that they asked the State Department to draft a statement.
While critics note that downplaying the Nazis' persecution of the Jews is a key feature of Holocaust denial, various White House officials have said the incident is overblown. White House Press Secretary Sean Spicer accused critics of "nitpicking" and noted that the statement was written "with the help of an individual who is both Jewish and the descendent of Holocaust survivors." White House Chief of Staff Reince Priebus said he doesn't "regret the words," and Trump spokesperson Hope Hicks responded, "We are an incredibly inclusive group and we took into account all of those who suffered."