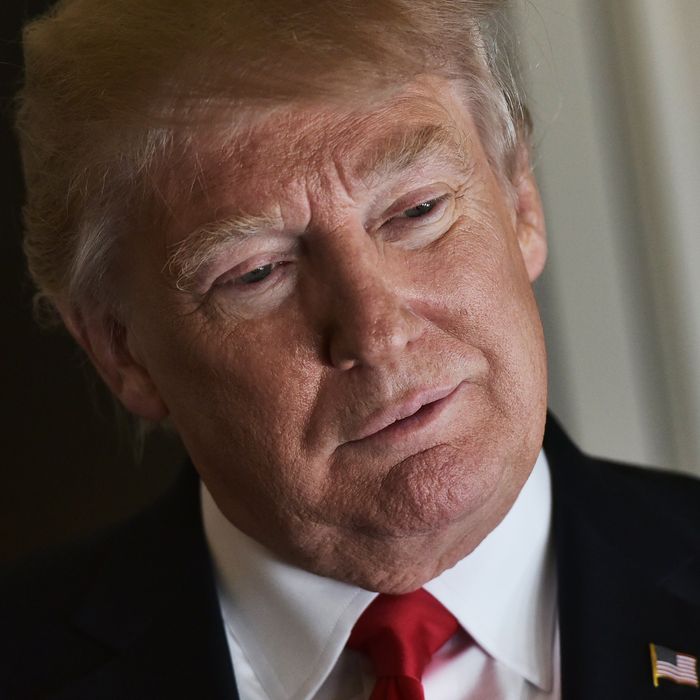 SEE YOU SOMEWHERE BESIDES COURT.
Photo: Mandel Ngan/AFP/Getty Images
Shortly after the Ninth Circuit Court of Appeals declined to reinstate the Trump administration's ban on immigration from seven Muslim-majority nations Thursday night, the president released a statement:
It wasn't clear whom, precisely, Trump was vowing to see in court, but one thing was certain: The president was taking his case to the Supreme Court.
Alas, you can't believe everything you read on Trump's Twitter account: On Friday, the White House indicated that it would not be appealing the Ninth Court's decision, opting to draft a new executive order, instead.
One administration official described the likely countours of the new order, in an interview with the Los Angeles Times:

The administration ultimately could rescind the order and issue a new one that would suspend only refugee admissions and the issuance of new visas, according to an administration official familiar with the internal deliberations. The step would allow everyone who already was granted a visa or refugee status to keep it.
Among other things, this would reduce the number people and institutions with standing to challenge the order. But even a more carefully tailored version of the ban will be haunted by Trump's months of shouting anti-Muslim sentiments into the largest speakerphone he could find. As Vox's Dara Lind explains:
[T]here's no way the Trump administration could write a constitutionally watertight version of its refugee and visa ban. That's because they themselves have put the idea out there that it's just a dressed-up, constitutionally passable version of the "Muslim ban" Trump proposed during the campaign.

That doesn't automatically render the executive order unconstitutional — in fact, there's a decent chance that a maximally cautious version of a visa ban could, ultimately, be upheld. But it certainly makes it hard for any judge who does believe the ban had its origins in animus to put those worries aside.
Three weeks down, more than 200 (at least) to go.