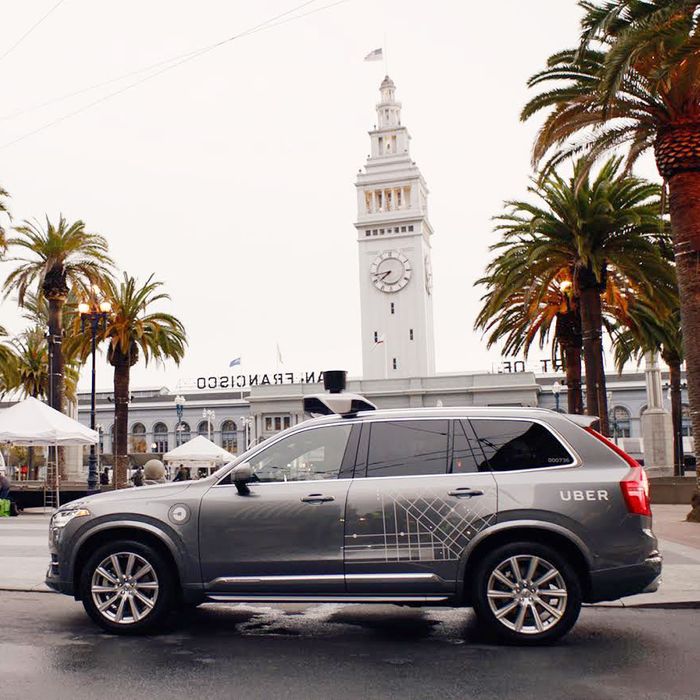 A self-driving Uber car.
Photo: Uber
Uber's very bad February just got worse. Google's (er, Alphabet's) self-driving car company, Waymo, filed a lawsuit against Uber on Thursday, claiming Uber stole its design for a laser-scanning detection system from Waymo.
The heart of the claim focuses on Otto, a self-driving trucking company founded by former Google engineer Anthony Levandowski and acquired by Uber for $680 million in August of 2016. According to Waymo, Levandowski intentionally accessed Waymo's servers and downloaded 9.7 GB of Waymo data and documents, copied them to an external hard drive, and then wiped his laptop in an attempt to hide his trail, all shortly before leaving to start Otto in January of 2016.
Google claims this was "calculated theft" that allowed Otto (and later Uber) to steal trade secrets about Waymo's Light Detection and​ Ranging (or LiDAR) system, which uses a 360-degree array of lasers to provide self-driving vehicles with the vital information of what's happening on the road around it.
The full complaint lays out an interesting timeline for the case. After Uber acquired Otto in August of 2016, Google decided to take a closer look at the circumstances surrounding Levandowski's departure. As the charmingly mean-spirited complaint notes: "Otto's purchase price was reported as $680 million, a remarkable sum for a company with few assets and no marketable product." Many saw the Otto acquisition as a way for Uber to muscle its way into the trucking industry, which employs over 3.5 million drivers and did $726 billion in revenue in 2016.
The complaint states that Google quickly discovered Levandowski's alleged mass download from Waymo servers, despite Levandowski's attempts to cover his trail. The complaint also mentions that Google discovered that several other former Google employees who joined Levandowski's new company had similarly copied information about suppliers and manufacturing details. But, for whatever reason, Google held off any legal action.
This changed in December, when a supplier accidentally emailed a Google employee an attachment meant for Uber. When the attachment was opened, it showed a schematic for Uber's planned LiDAR tech, which Google claims looked nearly identical to its own design — including an innovation by Google that allowed its LiDAR system to use only one lens for receiving information, which greatly reduces cost and complications in manufacturing a working LiDAR array.
After filing a public-records request in Nevada (the state where a tremendous amount of autonomous-vehicle testing takes place), Google says it confirmed its suspicions on February 3. Three weeks later, it filed suit.
It's hard to calculate the potential fallout of the lawsuit, but it has the potential to be devastating. It's a rarity in tech patent-infringement lawsuits, in that Google's complaint states it has forensic evidence of actual theft, versus just pointing toward the similarity between the two companies' products. This could greatly increase the liability hanging over Uber (and could make Uber more willing to settle out of court). But the impact could be felt by Uber before the case is either settled or makes its way to a jury trial. Google is seeking a preliminary injunction against Uber, which would likely halt Uber's ambitious real-world testing and demonstration of its self-driving cars and trucks.
Even more potentially disastrous for Uber would be the lawsuit's effect on its long-rumored IPO, which many believe will happen in 2017. Uber, valued at $68 billion on paper, is already facing a strong headwind thanks to a long press cycle that has turned #DeleteUber into a trending topic on Twitter, and made the company a byword for Silicon Valley arrogance, misogyny, and anti-worker attitudes. Prominent VC investor Kate Mitchell of Scale Ventures said on Tuesday that Uber's self-inflicted wounds over horrifying gender bias in the workplace were already having an effect. "That's really starting to affect how we perceive the company and its public persona," she said to CNBC on Tuesday. "I think it's a challenge for them going forward toward an IPO." And this, of course, was before news of the lawsuit broke.
It's also worth noting that Google Ventures, Google's VC investment fund, put $250 million into Uber in 2013. Google's senior vice-president David Drummond even sat on Uber's board for a time. Shortly after Uber acquired Otto, Drummond stepped down. Still, the investment remains, which presents the odd situation where a company owned by Google is suing a company in which Google owns a significant stake. The lawsuit could ultimately affect how much Google will be able to cash out on its investment if Uber's IPO is indeed affected.
We reached out to Uber for comment, but the company has yet to respond. We'll update when and if it does.