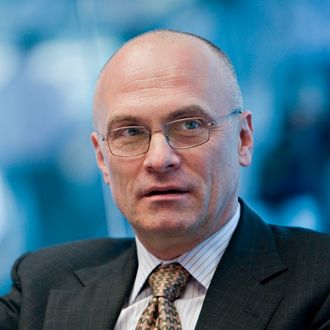 Andrew Puzder.
Photo: DANIEL ACKER/Bloomberg via Getty Images
As the Senate voted to make former Goldman Sachs banker Steven Mnuchin Treasury secretary on Monday, the confirmation of one of President Trump's other cabinet nominees began to look less likely. Four Republican senators who sit on the committee that will hold the first hearing for Andrew Puzder on Thursday are on the fence about the Labor secretary.
Susan Collins, Lisa Murkowski, Tim Scott, and Johnny Isakson all sit on the Senate Committee on Health, Education, Labor and Pensions, and their opposition could kill his nomination. If Puzder advances out of the committee, his nomination will go before the full Senate, where he can only afford to lose two Republican votes.
Democratic lawmakers and left-leaning groups have been speaking out against the CKE Restaurants CEO for weeks, citing complaints about how employees are treated in Hardee's and Carl's Jr. restaurants, and statements he's made about reducing protections for workers — not to mention his comments floating the possibility of replacing workers with robots. Last week, Pudzer admitted to hiring an undocumented immigrant as a housekeeper. Puzder was also accused of domestic abuse by his ex-wife, who later recanted, and he's drawn criticism for ads that feature bikini-clad women eating fast food.
The four Republican senators have not described their concerns about Puzder, but the Washington Post reports that conservatives may have a hard time overlooking the racy ads and allegations of abuse. Puzder's ex-wife has said that in 1989 she "impulsively filed for divorce and was counseled to file allegations that I regretted and subsequently withdrew over 30 years ago." However, last month it was reported that she appeared on The Oprah Winfrey Show as a victim of domestic violence.
Journalists could not locate a recording of the episode, but on Monday Politico reported that the Oprah Winfrey Network provided the Senate with a copy.
"I've arranged for senators on the committee to see that … I thought that was a reasonable request. No reason not to see it," said HELP Committee Chairman Lamar Alexander, who supports Puzder's nomination. "That happened 27 years ago. His former wife has said it was all not true. She has reiterated that in a heartfelt letter to members of the committee and has been willing to talk to members of the committee so I don't think that's an issue."
Senator Patty Murray, the committee's ranking Democrat, said she's also viewed the March 1990 episode titled "High-Class Battered Women," and she was "deeply troubled."
Senator Collins said she's seen the tape, but didn't give her reaction. "I'm going to wait until the issues that have arisen are fully explored at his hearing," she told reporters. "I am reviewing the other information that has come to light, and I'm sure all of this will be explored thoroughly."
A spokeswoman for Murkowski said she "will be working to learn more about Mr. Puzder leading up to and during the upcoming hearing, as well as through additional one-on-one conversations with him."
Isakson's staff said that, as with other nominees, he would not make a decision until after the hearing. "I have not come out with a position," Scott said. "I've never said I was opposed to him, at all."
According to CNN, Murkowski and Collins, who voted no on Education secretary Betsy DeVos, are the most opposed to Puzder of the four. Sources said Senate Majority Leader Mitch McConnell sees the nomination as a test of his leadership and is determined to get the votes needed to make Puzder Labor secretary.