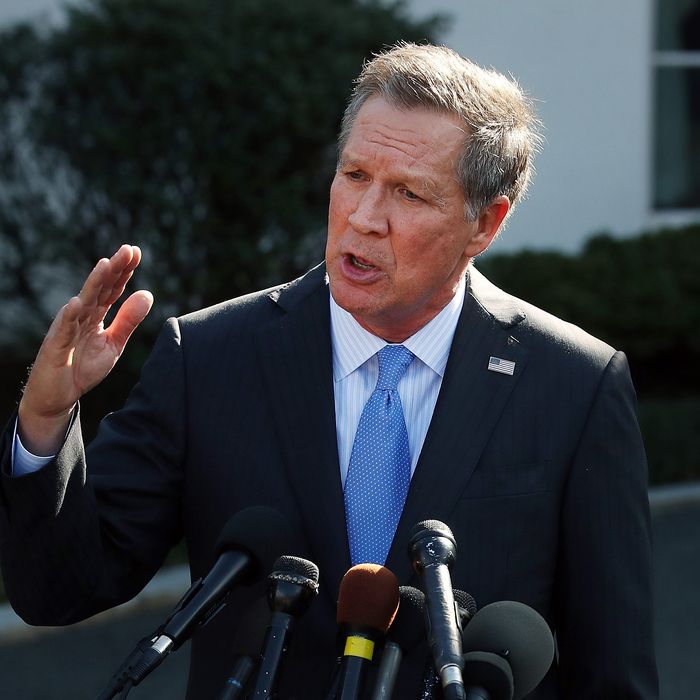 Kasichcare?
Photo: Mark Wilson/Getty Images
Trumpcare is getting a vote. On Friday, Republican sources told Politico that the American Health Care Act (AHCA) will go the floor of the House next Thursday.
That move came after President Trump huddled with a group of wary House conservatives, and (reportedly) endorsed three amendments to the bill — including a provision that would strip Medicaid from unemployed, able-bodied adults.
Another amendment would give states the option to convert Medicaid from an entitlement program (which covers anyone who meets certain eligibility requirements) into a block grant (a fixed annual sum that does not rise or fall with the poverty rate). This would allow states to escape federal rules regarding eligibility and the benefits that Medicaid must provide to its enrollees (at the likely cost of lower funding). Finally, the new bill would prevent "non-expansion states from expanding Medicaid during the expansion phaseout," according to Axios.
These changes would almost certainly increase the number of Americans who lose access to health insurance due to the GOP's bill. In its current form, the Congressional Budget Office expects the AHCA to grow the ranks of the uninsured by 24 million.
So, Trumpcare is now sufficiently cruel to garner 216 Republican votes in the House — or, at least, Paul Ryan thinks that it is.
Still, unless the endgame here is to shift blame for Obamacare repeal's failure away from Paul Ryan and onto Susan Collins, it's hard to see how a more right-wing version of the AHCA passes the Senate. The aforementioned Maine senator is already a "no" vote on the bill, and other moderate Republican senators have demanded that the bill adopt more generous subsidies for low-income people.
Meanwhile, the Republican governors of Ohio, Nevada, Michigan, and Arkansas jointly declared their opposition to the bill, in a letter to Mitch McConnell and Paul Ryan Thursday. Like the Senate moderates, John Kasich and company want to preserve the increased level of federal funding that Obamacare provides Medicaid recipients — and, if cutbacks are needed, to limit eligibility rather than reducing reimbursements.
In other words: The governors don't want Paul Ryan to take away the free money that's keeping their low-income residents insured and their hospitals paid.
While governors, obviously, won't get a vote on the AHCA, Republican senators from expansion states are subject to similar pressures. And on Friday afternoon, Nevada's Dean Heller said he stands with his governor.
Ohio's Rob Portman and Arkansas's Tom Cotton are among the many other Republican senators who have expressed reservations about the House bill.