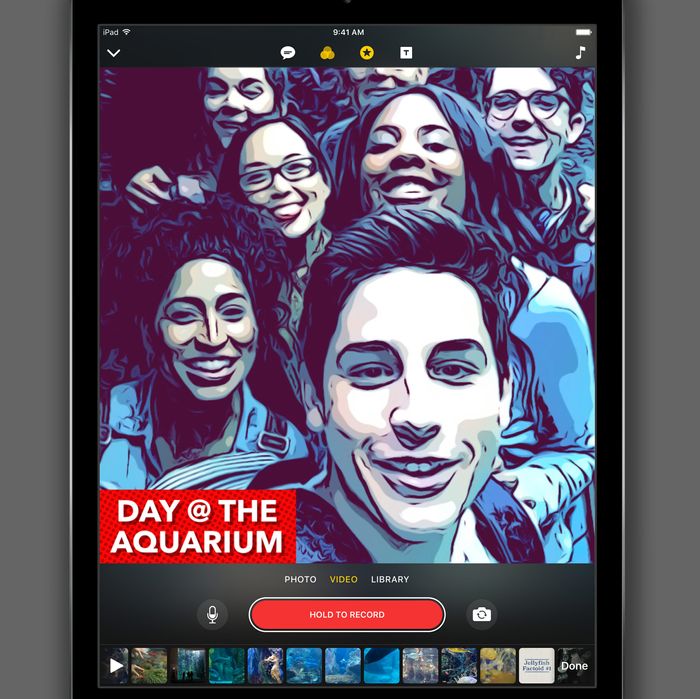 Apple is officially throwing its hat into the social-video ring. Today, the company announced it is releasing a new app, Clips, which will let users edit videos. The app will be available for iPhone and iPad, and will live separately from the existing camera app. It's not available until April (and will only be released in the U.S.), but based on the specs, it sounds like a fun hybrid of about six apps you've probably already downloaded and used before.
Clips lets users edit together still photos, videos, and music. You can add overlays and filters, like a comic-book effect, to stylize your images. (Cough, cough … Prisma.) The most novel feature is called Live Titles, which is effectively an auto-caption tool. Users can speak into their device microphone, and Live Titles will generate onscreen text captions. (This feature is supported in 36 different languages.) Users will also be able to decorate on top of videos and pictures with text or emoji, à la Instagram or Snapchat. (Though you can't doodle with you finger directly, which is a slight difference.)
Videos can be up to an hour in length, though any single clip can't be longer than 30 minutes. Once you're finished, you can upload your Clip (in HD) to another social platform — Snapchat, Instagram, Facebook, the ghost of Vine — though for longer Clips, you may have to trim to fit platform requirements. The new app will roll out in April, just days after Apple's new red iPhone and 9.7-inch Retina iPads go on sale.