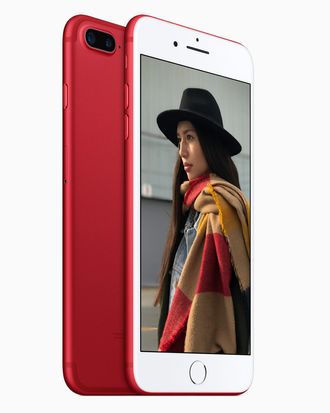 Apple's new red iPhone.
Photo: Apple
This morning, Apple released its first new products of the year: a new series of iPads, and a limited-edition red iPhone 7 and iPhone 7 Plus. The phone was, unsurprisingly given its hue, created through Apple's partnership with (RED), an organization that raises money for AIDS and HIV research. The new phones will be available in store and online on March 24, and prices will start at $750 and $879 for the 7 and 7 Plus, respectively. An undisclosed portion of the sale price will go toward (RED).
As for the new iPads, the biggest draw is the price. At $329, the devices are Apple's cheapest iPad yet. They come with a 9.7-inch retina display, making them Apple's midsize model between the iPad Pro and the iPad Mini, and are available in silver, gold, and space gray. New iPads will also be available on March 24.