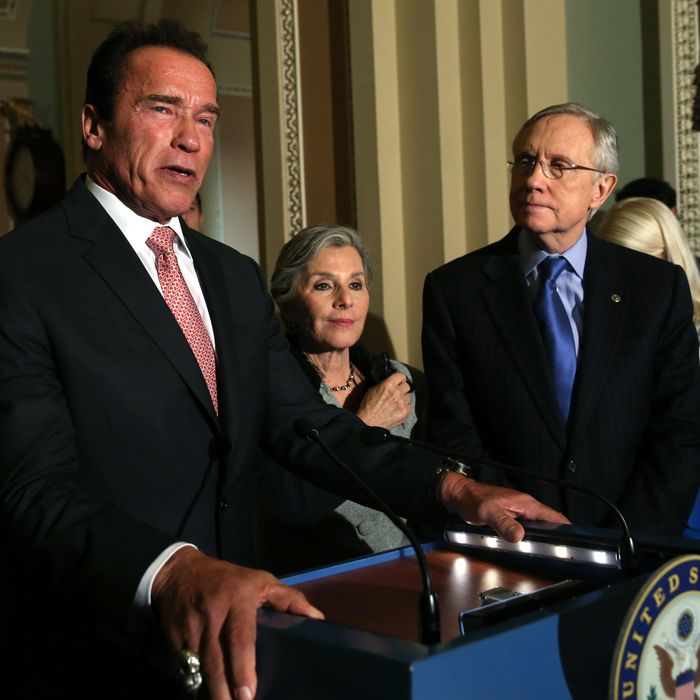 "Come with me if you want to legislate."
Photo: Mark Wilson/Getty Images
In The Running Man, a 1987 dystopian action flick set in 2017, Arnold Schwarzenegger's character goes to great lengths to punish a power-drunk reality-TV host for his manipulation of the American people. The real Schwarzenegger is considering doing something similar in 2018, when he might run for the U.S. Senate so he could be a thorn in President Trump's fleshy side.
Politico reports that the former California governor is eyeing the Senate seat currently occupied by Dianne Feinstein, who will be 85 next year, when she's up for reelection. It's unclear whether Schwarzenegger's potential run would be with the GOP or as an independent, but what is clear is that he would be anti-Trump.
Unlike those in the GOP who aligned against Trump in the Republican primaries only to slink over to his side in the general election, Schwarzenegger remained steadfastly against him. A month before the election, Schwarzenegger put out a statement saying that he would not vote for the Republican in a presidential race for the first time since becoming a citizen.
But as proud as I am to label myself a Republican, there is one label that I hold above all else — American. So I want to take a moment today to remind my fellow Republicans that it is not only acceptable to choose your country over your party — it is your duty.
Asked about Schwarzenegger's 2018 plans by Politico, his spokesperson didn't deny that the former Governator may try to become a Senatator. "Right now Gov. Schwarzenegger's focus is on using his platform to bring some sensibility and coherency to Washington by fighting for redistricting reform, like we did in California,'' Daniel Ketchell told Politico. "We are keeping all of our options open as far as how we can accomplish that."
While Politico quotes one expert who believes Schwarzenegger would "become an instant player" should he run for office, it's worth remembering that he left Sacramento in early 2011 with a 23 percent approval rating and a $28 billion budget shortfall. The economy was to blame for some of his unpopularity, but so too were his efforts to balance the budget by cutting spending on programs that helped the state's most vulnerable populations. He was so unpopular by the time his term was ending that current governor Jerry Brown was able to sink his opponent, former eBay CEO Meg Whitman, by suggesting that she was the second coming of Schwarzenegger.
On top of his political shortcomings, Schwarzenegger is also an oft-accused groper who fathered a child with a household worker. Trump may have proved that sexual impropriety isn't the impediment to higher office that it once was, but it sure seems like California could do better.