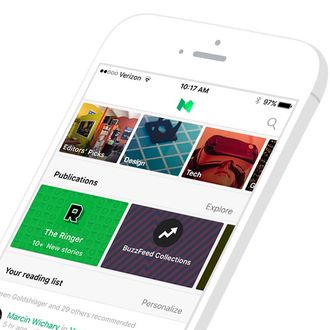 The question of subscriptions on Medium was always a matter of when, not if. Yesterday, the hybrid publisher-slash-publishing plaform-slash-home for entrepreneurs' thoughts-slash-CMS announced in a blog post from CEO Ev Williams that it would be offering memberships for five dollars a month. Exactly what users will get for that nominal fee is … vaguely defined.
Among the marquee features are an improved reading experience "based on the premise that, instead of yet another never-ending feed, people would be much happier with a limited set of carefully curated stories, chosen by experts among topics we care about" — sure — and "even better content." The company has been soliciting popular Medium users as the service ramps up, though it is unclear who's handling the operation ever since the service effectively shuttered its editorial department last year, abandoning ad sales as a revenue model and laying off a third of its staff in the process.
The vagueness surrounding the new Medium, given the service's continual stutter steps and pivots over the years, can be frustrating, and the reaction among journalists and media critics is predictable. Medium has never been able to shake off its reputation as a platform where start-up founders go to dispense terrible platitudes and then announce their company's abrupt shuttering, and Williams's earnestness about fixing the problems that plague the media business has generally been read as condescension by journalists and publishers who work in it.
Medium spent a lot of effort luring smaller publications over to its publishing platform, offering to take care of ad sales and technical infrastructure. But with the turmoil at the company (and associated bad communication with publishing partners), it seems increasingly doubtful that Medium is a good place for even small media businesses to launch or make money. (To be fair: It seems increasingly doubtful that the internet in general is a good place for small media businesses.) A premium subscription service on Medium won't help anyone build out the kind of staff or audience necessary to create a sustainable new media company.
What it might do, though, is support individuals. There's a growing segment of the creative class out there that is, in fact, supported by small subscription fees. Game-streaming service Twitch similarly offers premium features for $5 a month, and the subscription start-up Patreon has grown into a popular middleman through which followers make monthly pledges toward their favorite creators — cartoonists, podcasters, video-game developers, Twitter comedians, and, of course, fetish artists. An individual with a certain level of large, devoted following can find a way to turn that into sustainable income, and more and more are making a go of it.
Not to mention that, at scale, a lot of people will throw marginal amounts of money at stupid shit. Remember the guy who raised more than $55,000 on Kickstarter to make potato salad. His goal was $10.
Can you launch a fully staffed publishing organization atop Medium? Probably not. But it's clear that people are more than willing to pay small monthly fees for the work of creators whom they like and feel a personal connection to, especially if those creators produce work regularly. If Medium can figure out its messaging and give writers a way to directly monetize their fans, it might just be able to carve out a niche. It'd look different than how people might have hoped — less resource-intensive journalism, more start-up advice and erotic fanfic — but it'll survive.