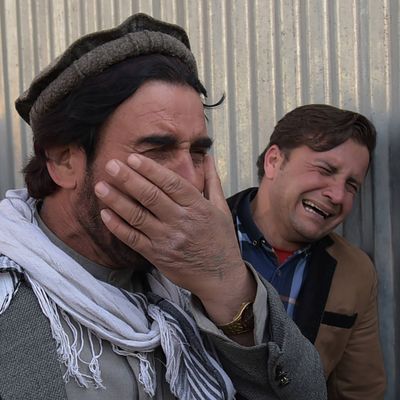 Dozens are dead after an ISIS attack on an Afghan military hospital.
Photo: Shah Marai/AFP/Getty Images
Terrorists dressed as doctors attacked a military hospital in Kabul Wednesday, killing at least 38 and wounding more than 50. ISIS claimed responsibility for the attack, which began with a suicide bombing that opened a gate, allowing three militants in white lab coats to enter the hospital complex.
Once inside Sardar Daud Khan hospital, the gunmen fired on doctors, patients, and guards, one witness told the BBC. The three gunmen worked their way up to the upper levels of the hospital and dug in for a firefight with Afghan special forces, who were dropped by helicopter onto the roof of the hospital.
As the firefight raged on, patients could be seen climbing out of the building and waiting on window ledges, Reuters reports. At one point, another explosion was heard inside the complex when a car reportedly blew up. The siege ended hours after it began with all three gunmen dead.
"In all religions, a hospital is regarded as an immune site and attacking it is attacking the whole of Afghanistan," Ashraf Ghani, the Afghanistan president, said Wednesday.
If ISIS did indeed carry out the hospital attack, it will mark a change in strategy for the group, the BBC notes. Previously, ISIS has focused on bombing civilians as it did last month outside the Afghan Supreme Court. Wednesday's attack marks the first time the have "engaged directly with security forces in the capital," the BBC says.