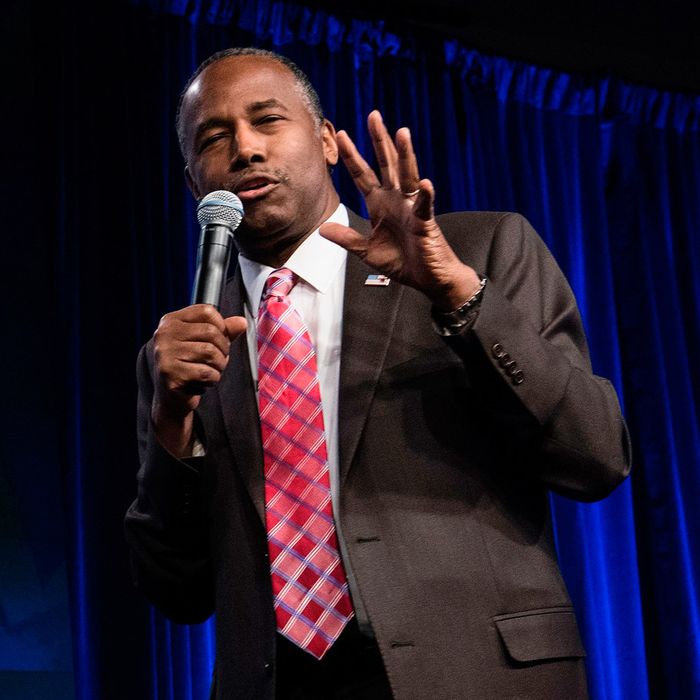 THINK BIG.
Photo: Brendan Smialowski/AFP/Getty Images
The new secretary of Housing and Urban Development is a retired neurosurgeon and self-help guru who boasts iconoclastic views on slavery and ancient Egypt — but has no experience in government or housing policy.
These characteristics were on full display in his first speech to his new department.
"Every human being, regardless of their ethnicities, or their background, they have a brain: the human brain," Ben Carson informed his fellow HUD employees. "It remembers everything you've ever seen, everything you've ever heard. I could take the oldest person here, make a little hole right here on the side of the head, and put some depth electrodes into their hippocampus — and stimulate — and they would be able to read back to you, verbatim, a book they read 60 years ago."
This turned out to be an argument against government handouts.
"You can't overload the human brain," Carson explained. "So we need to focus a little less on what we can't do and a little more on what we can do. After all, this is America, the 'can-do society' — not the, 'what can you do for me' society."
Carson supplemented this argument by praising the "can-do" spirit of the "other immigrants who came here in the bottom of slave ships, worked even longer, even harder for less."
Then, things got weird. Per the Washington Post:
At one point, Carson walked the audience through his "THINK BIG" philosophy to "unleash potential," the topic of one of his several books. "T is for talent, which God gave to every person," he began, going on to assign a principle to each letter.

In another instance, Carson asked those in attendance to raise their hands to "take the niceness pledge." "Just raise your hand, everybody raise your hand," he said, as the staff obeyed. "Now what did you just pledge to do? Be nice to every single person you encounter for one week, including your spouse!"
Apparently, HUD employees' expectations for their new boss were low enough that this qualified as comforting. While Carson made multiple appeals to public-private partnerships and the harms of government dependency, he announced no specific funding cuts and honored the "niceness pledge" throughout his remarks.
At the end of his remarks, one HUD staffer stood up and thanked Carson for his speech, saying that it had reassured her that he believes in the department's mission.
"There's always a lot of different perspectives and one of the things that I have found is when you have divergent perspectives, if you can get those people to sit down and talk to each other, they will frequently be able to come up with extremely good solutions," Carson said. "I believe in always giving the first pass to the people who are actually involved as opposed to imposing upon them from above."